It's official: the world is in love with British actress/writer/activist Emma Thompson, who has starred in well-known hits such as Howards End, The Remains of the Day, Harry Potter, and the beloved Christmas favorite Love, Actually.
Thompson won us over once again when she showed up to receive her Damehood from the Queen of England wearing a kick-ass suit, bright white sneakers, a badge calling for equal pay — and then proceeded to ask Prince William for a kiss.
The prince turned her down, most likely due to Royal "rules."
A long-time friend of the Royal family, Thompson took it in stride and laughed about the story, saying:
"I love Prince William. I've known him since he was little, and we just sniggered at each other. I said, 'I can't kiss you, can I?' And he said, 'No don't'!"
If we were going to rule England one day, we would have done what we wanted and taken the kiss, but that's just us.
People can't get enough of Thompson.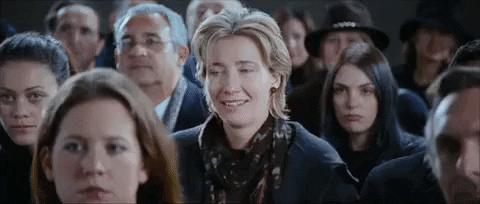 And they love her politics. 
But the shoes stole the show. 
When you're a Dame, you can wear what you want.