Just when you thought the Golden Globes couldn't get any more precious with Sandra Oh, winner of Best Actress in a TV Drama Series, telling her parents she loved them, along comes the cutest couple ever, Emily Blunt and John Krasinski.
While Blunt took the stage with Mary Poppins Returns co-star Dick Van Dyke, her husband, Krasinski, cheered her on.
Like, in a really big way.
Nothing unusual about that; married people cheer each other on all the time, but something about this particular cheer looked mighty familiar.
Wait a minute… he's channeling Meryl Streep.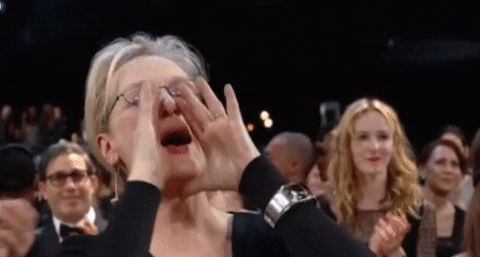 Twitter misses nothing.
Apparently, that wasn't the only time Streep used the double hand shouty move.
This is one couple folks can't get enough of.
Has anyone else in the Emily Blunt + John Krasinski fandom ever noticed that EVERY time they pose like this they always have their hands connected, even by just two fingers? It's such a small thing but SO CUTE and I melt every time ???????? ????♥️ pic.twitter.com/au436jfac5

— Mara (@ramblesbytam) January 5, 2019
imagine being john krasinski and looking and emily blunt like "damn. that's my wife" wouldn't that just be the dream

— kt ????️‍???? (@ktmcgoo) January 8, 2019
I want what Emily Blunt and John Krasinski have and nothing less

— Lauren Elizabeth (@lauren_biscotti) January 7, 2019
Yeah, she is!