Long-time fans of Chaka Khan will know she's never really been one to hold back. Her music is big, her voice is big, her personality is big – and her hair is big.
It's that big hair that's at the center of her latest venture. She's recently partnered with Indique to release two wigs that are as big and bold as Chaka herself.
The wigs will be available in either curly or straight, but both are incredibly thick and definitely not for the faint of heart.
Big hair has been Chaka's calling card since the beginning of her career:
And it certainly hasn't changed now that she's been performing for just about five decades:
When it came time to launch the wig line, she gave an interview that shed some serious light on all things Chaka. First, she admitted that she's always found a sort of power and confidence in her hair. She compared it to the story of Samson and Delilah.
In that parable, Samson gets all of his strength and vitality from his hair, so Delilah, in an attempt to weaken him, cuts it off. Things turn out okay in the end, but the message is pretty plain as far as Ms. Khan is concerned. No big hair, no big Chaka.
Of course, big hair like this takes some confidence to pull off.
Don't worry — Chaka has some advice for anyone who isn't quite sure they've got what it takes (and seriously, advice on confidence from Chaka Khan is pure magic, you guys. She's every woman!)
"My advice I would give to any person who wants to do anything with their personal style that would enhance their power and beauty and strength is just to do what you want. Do whatever you want."

"And be fearless about it. Even if it's a wig, it's yours, it's you! What they gonna do about it? Words are cheap, if they want to say something, let 'em talk. Because chances are if they're talking, they want you. They want to be you."
Things got really interesting when Chaka Khan was asked what she thinks about people who accuse women wearing weaves or wigs of being "fake." Like we said before — she's not known for holding back. Long story short, she's not even listening to the haters.
Chaka's going to do what Chaka wants to do.
"I'm not trying to hear what a man is trying to say. Men do so many things to enhance their own appearance. I'm very secure, I feel good. I like me, I like where I'm at right now."
Don't like her hair? Chaka don't care.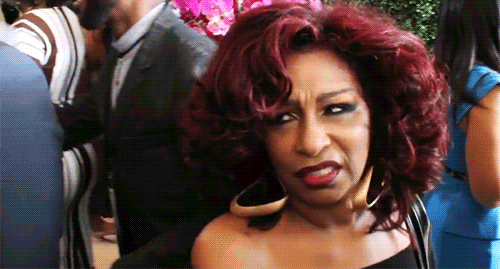 She's not the only one. According to her stylist, George Robert Fuller, lots of women are taking men's opinions and tossing them out the window in favor of doing exactly what they want to do — and it's glorious.
"Women are embracing what they want and less of what a man wants them to have. A lot of men would say, "I want it natural, I want this, I want that…" But women are embracing what they want now. Pop culture changes everything. When musicians like Chaka and the new current people, when they're doing something, then everybody jumps on the bandwagon."
The interview has made waves on Twitter, leaving people cheering for Chaka (and her wigs)… as usual.
What real "man" would say anything about hair to begin with?😕

— Jermaine Hughes (@JermaineHughe20) April 29, 2019
She got the power that other woman should have. The power to stand for themselves with confidence.

— Datewithmyface (@datewithmyface) April 30, 2019
I'VE NEVER WORN A WIG BUT I'M FINNA GET ME ONE OF THESE CHAKA KHAN WIGS HONEY!!!!

— Camp Candle (@CampCandleMusic) April 28, 2019