If you've spent any time online at all, you know that model and cookbook author Chrissy Teigen is the Queen of the Internet.
Whether she's just tweeting about her cooking foibles or shi*-talking our President—or going on YouTube shows to torture herself with the hottest of hot wings—she reigns supreme.
Even her Twitter bio is like *chef's kiss*:
And, of course, she is the star of the best reaction gif of all time, captured at the 2015 Golden Globe Awards. Nothing has ever captured awkwardness, whether personal or secondhand, so perfectly!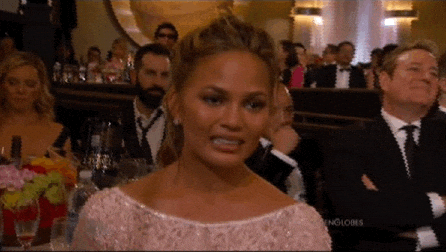 But someone just might be giving Chrissy a run for her money when it comes to iconic gifs—her own daughter.
Chrissy is the mother of two children with her musician husband John Legend: Luna, 3, and Miles, 11 months. Both are frequently featured in her social media posts doing all kinds of adorable stuff. They're the cutest!
Luna was recently photographed on the set of The Voice with her Dad, one of the show's judges, and Chrissy couldn't help but see a certain resemblance…
And not just in the way that every kid looks something like her parents. This resemblance was specific:
Luna is literally making the exact same face. Looks like the gif Queen has been usurped!
It wasn't just Chrissy who saw the resemblance. Social media folks were in hysterics, and the memes and jokes began rolling in!
Y'all couldn't deny that child if y'all wanted to😂

— HotGirlVick (@xBelleAme) May 8, 2019
On Instagram, even some of Teigen's celebrity friends were blown away by the resemblance!
So I guess the moral of the story is: be careful what you do online, cuz them apples don't fall far from the trees!