Dame Emma Thompson had the distinct pleasure of hosting Saturday Night Live on Mother's Day, and she wasn't about to let that golden opportunity slide when it came time for her monologue.
After greeting the audience and her "beloved husband of sixteen years" Keenan Thompson (totally a joke), she acknowledged that her daughter was in the audience. Emma then apologized to her daughter for years of unclear communication.
That sparked an idea. Emma took the chance to shed a bit of light on what moms might actually mean when they say certain things. Think of it like a little course in mom-speak.
Emma knew she couldn't do it alone, so she called up two of everyone's favorite previous cast members — mothers themselves — to offer a bit of help.
Enter Tina Fey and Amy Poehler (and a deliciously smug grin on Emma Thompson's face.)
The ladies brought the jokes straight from the jump. Emma got the ball rolling
Thompson: "When you ask your mother what she wants to do for Mother's Day and she says…"

Fey: "Just to relax in the backyard, maybe a massage."

Thompson: "What she's actually asking is…"

Poehler: "How does one buy weed?"
We're not suggesting you buy cannabis for your mom next year if it's not her thing and it's not legal where you are — but a little relaxation goes a long way. You know how Mother's Day goes. Most moms will ask for "the day off" or "time to rest" or "alone time" etc. and still end up doing your work and their work too.
It's worth noting just how much that says about the sheer workload that mothers typically carry. So… ya know… shout out to the moms out there for being absolute workhorses and champions. Not that you should have to be…
Yup, that was us throwing shade at any and all non-helpful partners out there. You get the Hermione side-eye.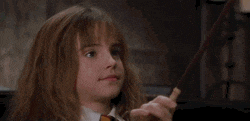 The ladies kept things going with jokes about fashion choices, politics, sexual preferences, and a glorious moment of mom-isms based on where your mom is from. Emma explaining the word "splendid" is just… splendid.
You can watch the whole segment here.
Twitter absolutely LOVED Emma.
Emma Thompson's monologue is only halfway done and it's already the best monologue of the year.

— Benjamin Freed (@brfreed) May 12, 2019
You guys, Emma Thompson on SNL. I haven't laughed this hard in ages. 🤣🤣🤣

— Kerry Muzzey (@kerrymuzzey) May 12, 2019
She is the BEST. Just when I thought I couldn't like her more…

— Karen (@TheDarkPages) May 12, 2019
Emma Thompson + Amy Poehler + Tina Fey = Perfection #SNL

— Amy McGahan (@almcgahan) May 12, 2019
Can we please just make Emma Thompson a permanent #SNL cast member?

— Borja Sotomayor (@borjasotomayor) May 12, 2019
Thanks for the translation — and the laughs! Moms (and their confused children) everywhere truly appreciate it.