Let's set the scene.
You're hanging out in NYC, just minding your own business, when suddenly a strange man with a microphone rushes at you asking some absurd question. And when you finally manage an answer, he shouts "f**k you" and runs off.
In most instances that would be deeply unsettling, and you might need to call your mom to cry and reassess why you came to New York in the first place.
But not when it's Billy Eichner.
Getting told off by Eichner on his hit show Billy on the Street is a badge of honor that you can and should someday tell your grandkids about.
And for one lucky victim who appeared on the show before it became the viral sensation that it is today, she might actually get that chance.
Eichner recently received a heartwarming message from a woman who was featured in an episode nine years ago, way back in 2010.
In the episode, Eichner was asking random people if they were going to be seeing Sex and the City 2, which had just been released in theaters. One woman responded that she couldn't go that weekend because she was getting married, to which Eichner promptly responded "Oh, f**k you" in hilarious fashion before walking away.
You can watch the classic episode here:
Amazing, right?
Well, that woman figured the release of Disney's live-action remake of The Lion King, in which Eichner voices the role of Timon the meerkat, was the perfect opportunity to reach out.
She started off by reminding him of their brief encounter:
"Hi Billy! Not sure if you would remember me, but I was on one of your first 'Billy on the Street' episodes that went viral. You asked my future in-laws and I if we were planning on seeing 'Sex in [sic] the City' that weekend, and I responded that I couldn't because my wedding was that weekend! You told me to F-off."
Then gave him an update about her life nine years later:
"Anyway, I just wanted to share that my husband of nine years and [I] took our four kids to see 'The Lion King' in theaters this past Saturday! Everyone loved it and your character was definitely the highlight. Just for fun I told my husband that I would reach out to you to see if you would remember that day."
And she made sure he knew that there are no hard feelings:
"No grudges and I still look up that video from time to time when I need a good laugh. Happy to see your career has flourished and wishing you all the best."
Eichner posted the message on Instagram, saying, "This is so lovely, I had to share."
He added: "Sometimes people are cool (especially New Yorkers)."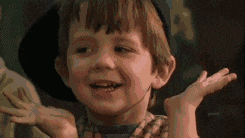 The sweet message had Eichner fans feeling emotional, to say the least:
Although one person, whose last name also happens to be Eichner, had this very Billy on the Street response:
If she's related, then the curmudgeon gene is certainly strong in that family.
It all just goes to show that you never know the impact you'll make on someone. Even if you shouted curse words into their face for fun.
You've come a long way, Billy Eichner.
You can check Eichner out in The Lion King, which is currently in theaters.
And for a laugh, here's a fun compilation of some of the best Billy on the Street moments. Enjoy!
Where have you seen Billy Eichner before? Well you may have seen him as part of the cast of Hairspray Live!, available here.