After what seemed like a long absence from the spotlight, famed comedian Adam Sandler is back with his own Netflix special, Adam Sandler: 100% Fresh.
The comedian is known for his disdain for critics, telling Howard Stern in a 2015 interview:
"The bad reviews that I get on everything I do, that part pisses me off. Every Friday literally every one of my movies is destroyed. Everything, the reviews, they destroy them so much."
Sandler shuns his critics and touts his own glorious review in the title of his new standup special, and it does not disappoint. The special includes all the usual suspects that have made him a household name, including juvenile jokes and songs.
But an hour into the special, Sandler takes a poignant detour and surprises audiences with a tribute to the late SNL actor Chris Farley.
Farley passed away in 1997 and left an indelible mark in the world of comedy with his zany, over-the-top characters.
The Happy Gilmore (1996) actor made sure his buddy's legacy lives on with a sweet segment while accompanying himself with a guitar and singing about "the funniest guy of all time." With a guitar in hand, Sandler struggled to hold back tears while he sang of his friend and their time together on SNL.
A montage of Farley's memorable contributions to TV and film was projected behind him, adding a mix of melancholy and levity to the beautiful eulogy.
Here are some of the lyrics from the song "Farley."
On Saturday night, my man would always deliver
Whether he was the Bumblebee Girl or LIVIN' IN A VAN DOWN BY THE RIVER
He loved the Bears and did the dance at Chippendales with Swayze
When they replaced his coffee with Folgers he went fuckin' crazy
The sexiest Gap girl and Meatloaf in the band
Without him there'd be no Lunch Lady in LunchLady Land
You know who I'm thinking about
I'm thinking about my boy Chris Farley
I saw him in the office crying with his headphones on
Listening to a KC and the Sunshine Band song
I said, "Buddy, how the hell is that making you so sad?"
Then he laughed and said, "Just thinkin' about my dad"
The last big hang we had was at Timmy Meadows' wedding party
We laughed our balls off all night long, all because of Farley
But a few months later the party came to an end
We flew out to Madison to bury our friend
Nothing was harder than saying goodbye
Except watching Chris' father have his turn to cry
Yeah, I miss hanging out watching you trying to get laid
But most of all I miss watching you f*ck with Spade
You're a legend like you wanted, but I wish you were still here with me
And we were getting on a plane to shoot Grown Ups 3
Yeah life ain't the same without you, boy
And that's why I'm singing' about
I'm singing about my friend Chris Farley
And if we make enough noise
Maybe he'll hear us
Give it up for the great Chris Farley.
As Uproxx mentioned, Sandler and Farley performed the same number of seasons on the perennial sketch comedy show (1990-1991 to 1994-1995) along with fellow alums Chris Rock, Rob Schneider, and David Spade.
One of Farley's memorable appearances on film was in Sandler's popular 1995 film Billy Madison as a perturbed bus driver.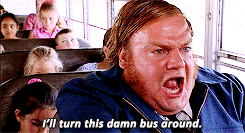 Audiences were moved by the special tribute.