Singer, actress and Fenty beauty mogul, Rihanna wasn't taking any nonsense when it came to the importance of getting out and voting.
Leading into the midterm elections, Rihanna made sure to keep her fans in the loop on what was happening by posting on social media.
She was a big supporter of Stacy Abrams who ran for Governor of Georgia.
GEORGIA: I'm sure you already know, but incase you're still wondering… it's all about @StaceyAbrams for Governor! Stacey is an inspiration to women across the world!!!

We need everyone in Georgia to Vote TODAY! It's going to take all of us to do the work! EVERY. VOTE. MATTERS! pic.twitter.com/vPOoM2nuV8

— Rihanna (@rihanna) November 6, 2018
And she informed fans they could still vote in certain states with same-day registration by sharing a post by activist Shaun King:
But then one of her followers decided to get a bit cheeky and came at Rhi Rhi with:
"Are you even a US citizen? Honest curiosity."
Teen Vogue reports she came back quick with the following:
"Nah I'm an immigrant tryna get yo country together.
Did u vote?"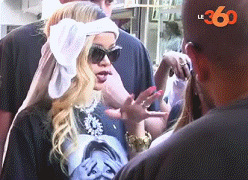 Rihanna fans knew it was best not to mess with her.
Many fans were happy she was speaking out and encouraging everyone to vote even if she can't.
Now that the mid-terms are over, maybe we'll see some new music!
H/T: Blavity, Teen Vogue