A Marvel obsessive who says he is a solicitor by day and a "wannabe superhero" by night,  is such a fan of the characters created by the late Stan Lee, that he spent 30 years amassing a $25,000+ collection of comics and memorabilia.
Claiming that his stash of merchandise allows him to be a "kid forever," Wayne Hardy, 41, of Derby, East Midlands, England. has given his hoard—including 5,000 comics  and 250 action figures, as well as Marvel pajamas, mugs and underwear—their own bedroom in his house.
Wayne remembers it being love at first sight, when he saw his first Marvel characters, saying:
"I got my first comic in 1985 when I was eight. I remember it vividly being a Marvel Transformers comic."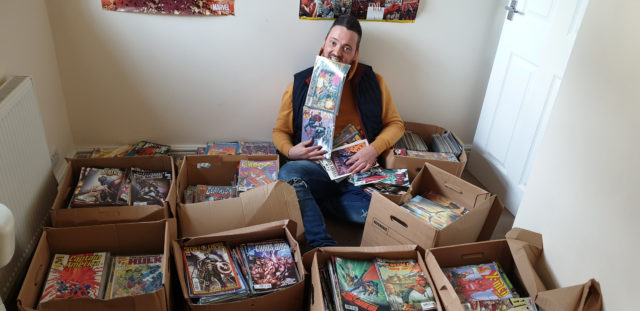 Wayne posing proudly with his collection (PA Real Life/Collect)
He continued:
"I was so mesmerised in the stories and enjoyed the characters so much, it was the best escapism a kid could ask for."
"Ever since then I've been obsessed with Stan Lee's creations and his incredible imagination."
"As a kid, I spent hours in bespoke comic stores and spent any little pocket money I had on the 50p ($1) comics."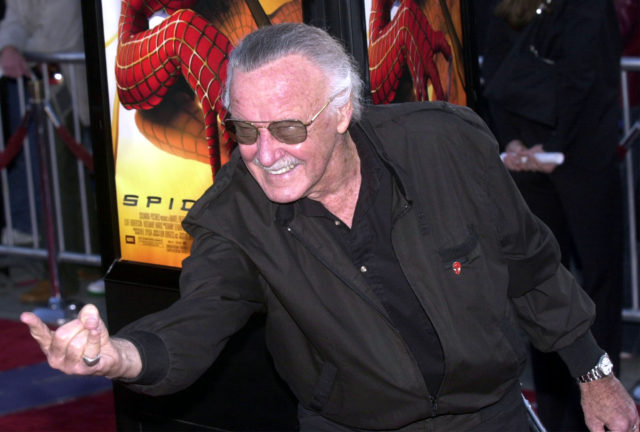 Wayne dedicated 30 years of his life to collecting items from Marvel based on the characters created by the late Stan Lee, pictured (PA Real Life/PA Images)
No longer $1, the average price of a comic book has risen to $5.75, but that has not stopped Wayne from collecting them by the thousand.
Most prized is his limited edition 1965 X-Men issue 12, which features his favorite character, Juggernaut, and was gifted to him by his girlfriend, Laura Cook, 33, a paralegal.
But, with his action figures worth anything from $32 to $255, he says they are far too precious to play with.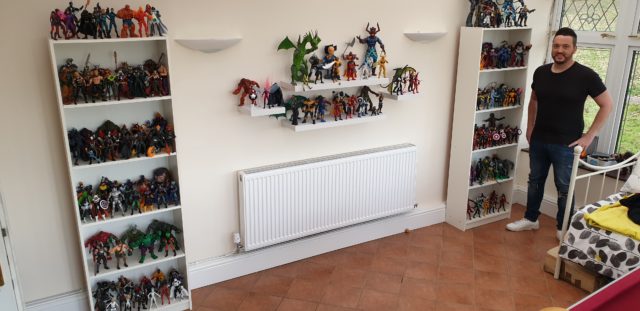 Wayne with his 250 action figures (PA Real Life/Collect)
He laughed:
"I have three nieces and one nephew, Georgia, 14, Ethan 12, Paige, 12 and Alice, 10, who I adore."
"They love the action figures, but are very disappointed during their visits, when I won't let them play with them."
"I'm not sure exactly how much all the action figures are worth now, but I insured them for £7,000 ($8,950)."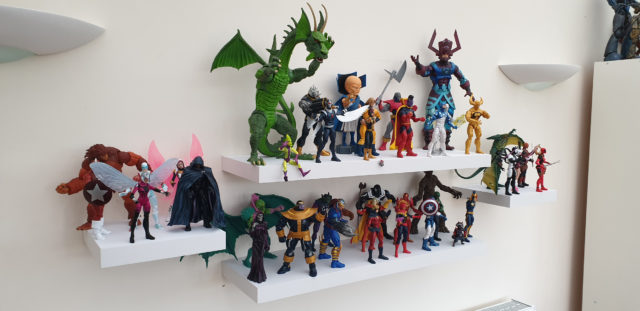 Wayne's expensive action figures (PA Real Life/Collect)
He added:
"I try to get them as cheap as possible by shopping on eBay and online forums, but I still end up spending £150 ($192) on most of them—with my most valuable figures, like the Watcher,  selling for hundreds of pounds online."
While Wayne is aware that some people may find his hobby childish and a waste of money, he has no plans to give it up.
He said:
"I know when my girlfriend, who I've been with for 10 years, first saw my collection, she thought it was odd, like most people do."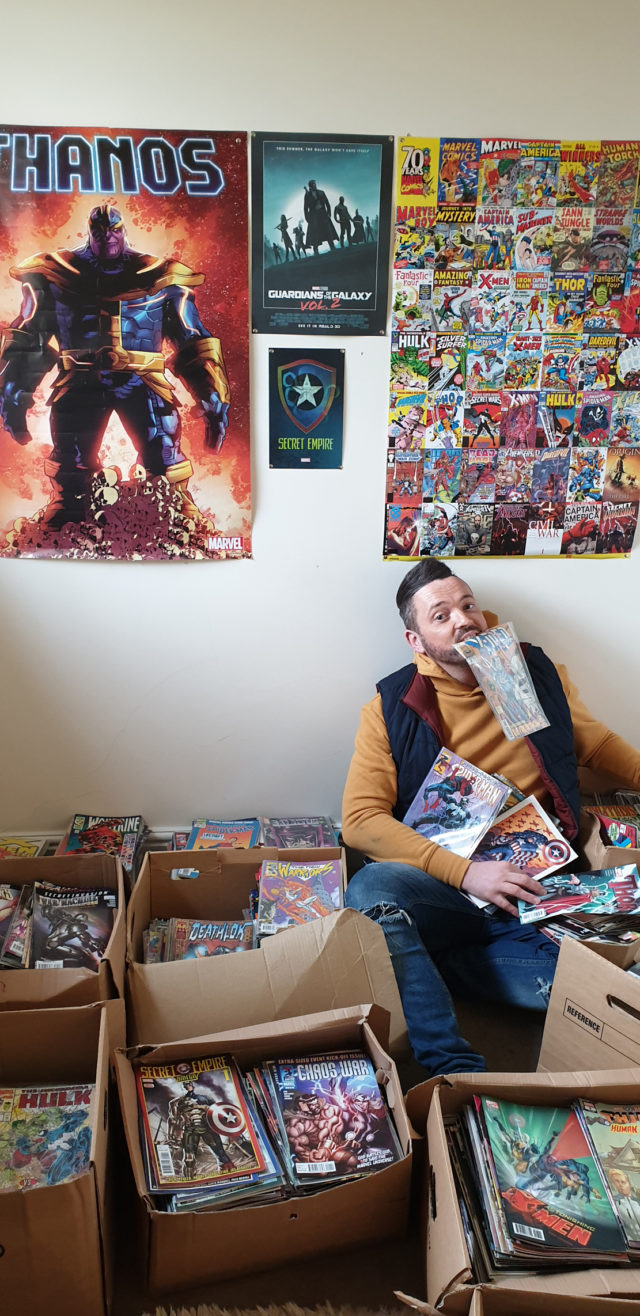 Wayne posing proudly with his collection (PA Real Life/Collect)
Wayne added:
"She grew to like it, though, and helps me  by buying me things she thinks I might like."
"I have some friends who think I could spend my money more wisely. They're probably right, but I'm mad about Marvel and don't want to let any of my things go."
As well as collecting Marvel merchandise, Wayne always attends the annual Comic-Con convention in London, where in 2012, he met his idol, Stan Lee, describing it as the highlight of his life.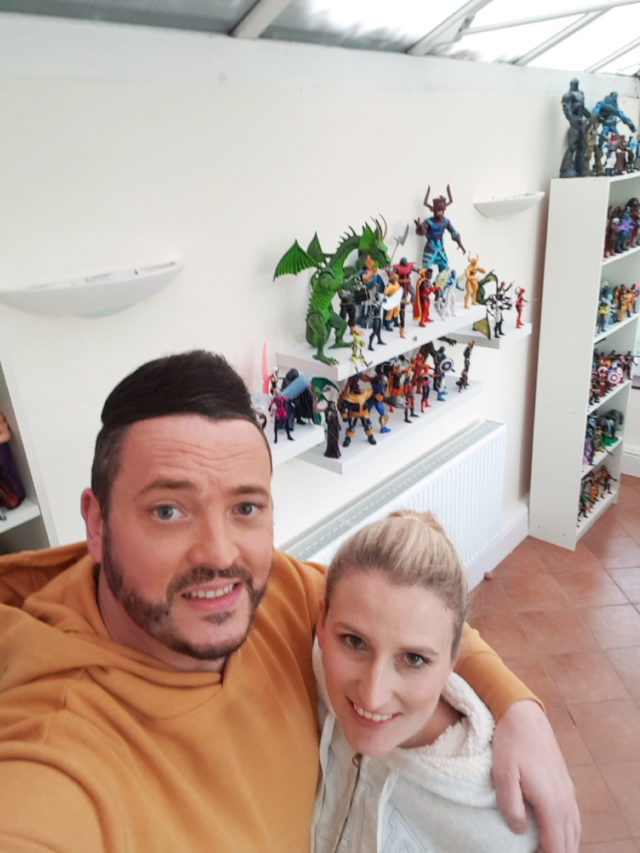 Wayne Hardy and his girlfriend Laura Cook (PA Real Life/Collect)
He continued:
"Stan Lee and Marvel's popularity has really grown in the last decade, since the comics were brought to life by the MCU (Marvel Cinematic Universe), but I was a fan long before that, when it was a real 'nerd club'."
"Ever since the first Iron Man movie in 2008, everyone wants to know what's going to happen next."
When Stan Lee's daughter announced her father's death at 95 on Monday, Wayne was devastated.
Wayne's posters (PA Real Life/Collect)
He said:
"I was gutted when Stan died and it's been nice to see fans all over the world remembering his life."
"I heard it from my girlfriend and didn't know how to react—as a kid I thought he would be immortal, I forgot he would be gone one day."
"But it means even more to people like me, who haven't been invested for just 10 years, but nearly our entire lives."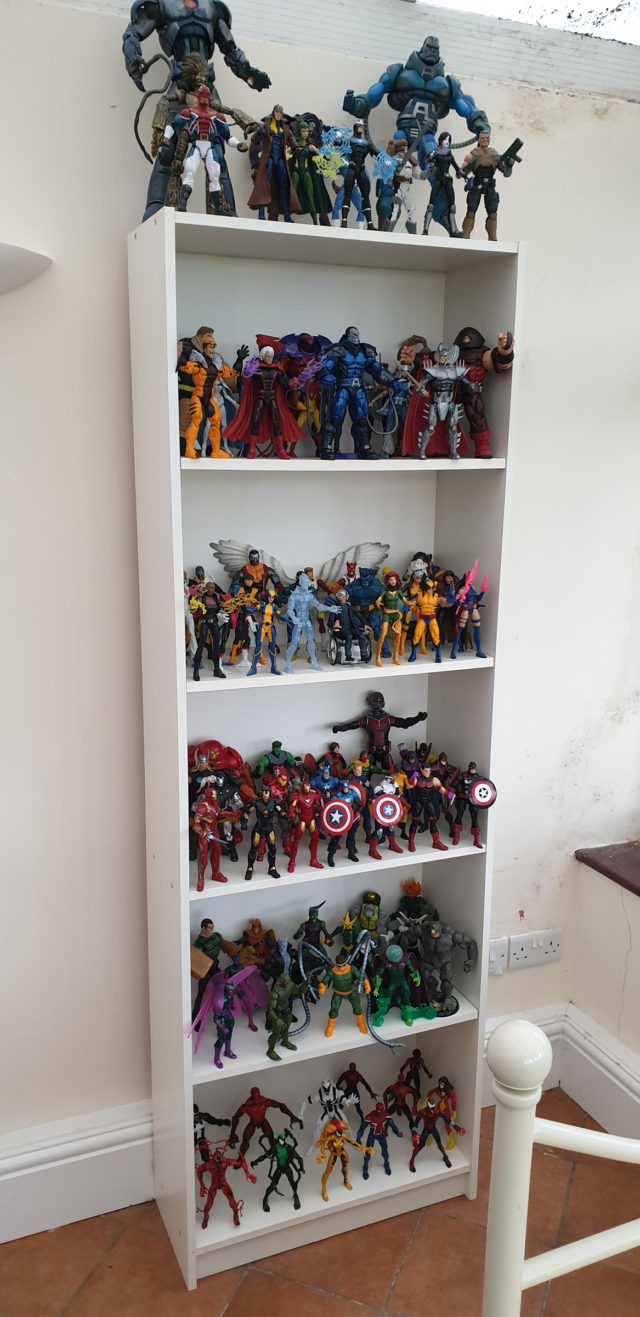 Wayne's expensive action figures (PA Real Life/Collect)
Praising the unique and quirky talent of the man he regards as a genius, Wayne was particularly drawn to his knack for giving even the most outlandish characters traits children could relate to.
He said:
"Stan always had a presence with the fans by showing up in cameos and narrating his animated series."
"We always knew he was there, we knew exactly who was behind our biggest fantasies."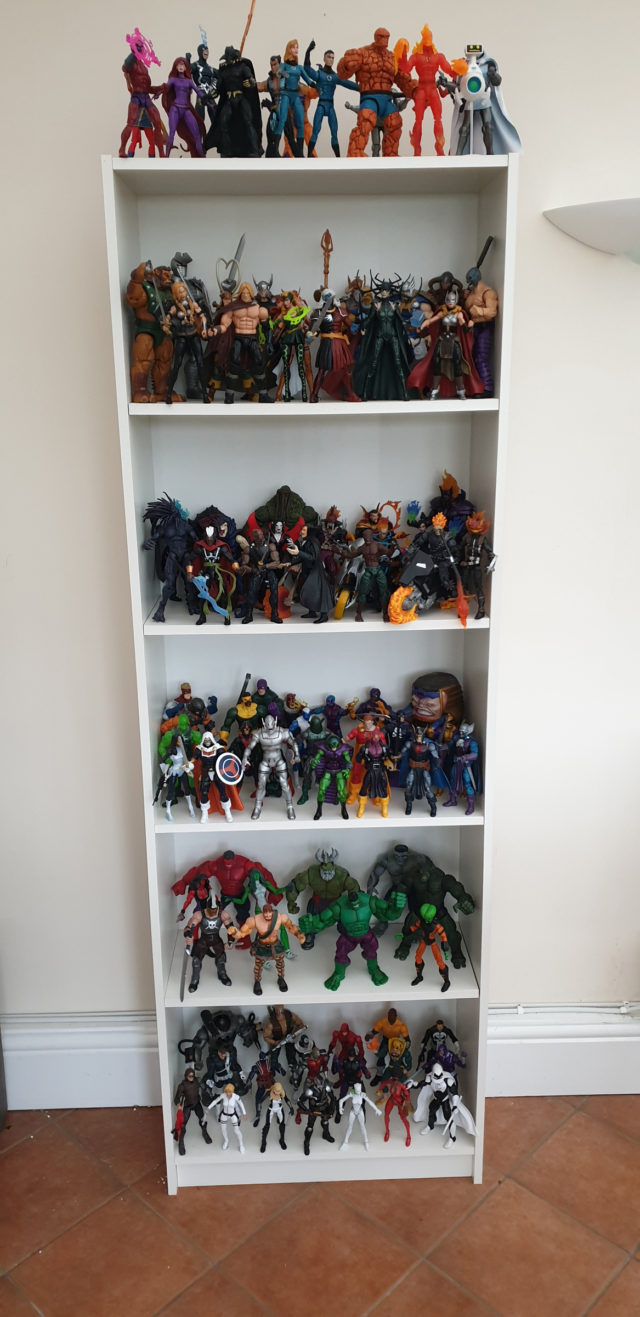 Wayne's expensive action figures (PA Real Life/Collect)
He continued:
"He made his characters relatable—Spider-Man struggled with acne and with being able to talk to girls,  just like the rest of us!"
"He was a symbol of a superhero world. He's helped me to stay a kid forever, as even as an adult you never grow out of superheroes."
A version of this article originally appeared on Press Association.