A stay-at-home-mum has spoken of her horror after a flesh-eating bug feasted on her abdominal wall, when it swapped places with her baby, as he was lifted from her womb during a C-section.
Mum-of-three Ashley Thompson, 36, from Conway, Arkansas, was given an emergency Caesarean, after suffering a prolapse—when pelvic organs drop into the vagina—after complications arising from being induced.
Her baby, Jude—who has two big brothers, Hunter, 18, and Chance, 15,—needed to be born early, as Ashley had the normally harmless bacteria group B strep (GBS), carried in the digestive or reproductive systems of around one in five pregnant women.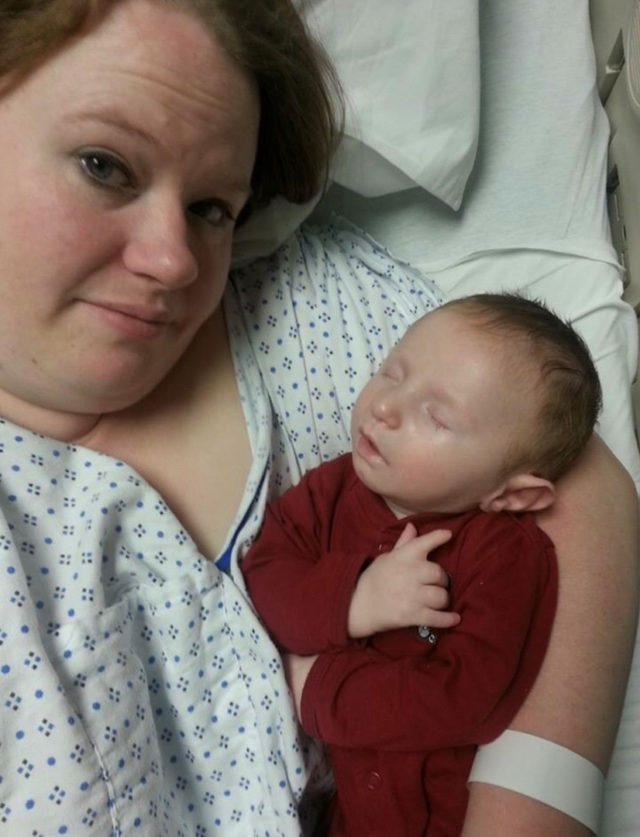 Ashley and Jude together during her three-week recovery in hospital (Collect/PA Real Life)
But doctors feared that she could become one of the one in 1,750 cases, when they say GBS can be passed on to her baby, so they induced her—only to then discover the prolapse, resulting in the C-section.
When Jude was delivered, weighing 8lb 4oz at a local hospital on April 23, 2014, he was immediately sent to an intensive care, due to trouble breathing, meaning Ashley and her husband Eric, 31, a building contractor, went home without him—unable to see him until 48 hours after his birth.
However, further problems were to strike when Ashley began having severe pain in her tummy, within days of returning home.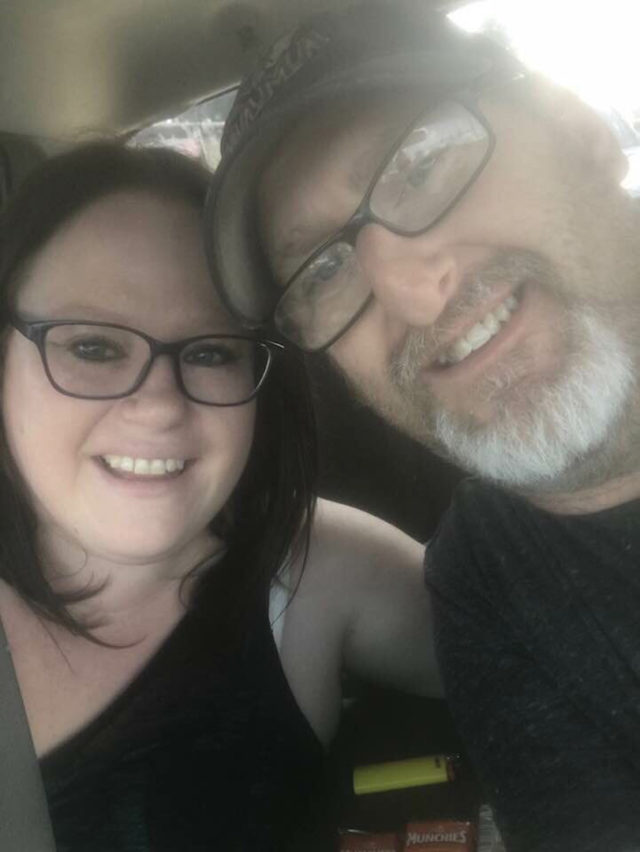 Ashley and her husband Eric, a building contractor (Collect/PA Real Life)
"I thought everything was fine," said Ashley, a former nurse. "But then ,over the next two days, I started to realise that something wasn't right, as this awful pain built up in my tummy and a wave of confusion and tiredness hit me.
"Still, even though it hurt a lot, I thought it was all to do with some sort of irritation from the stitches."
Seeing her doctor just in case, she was surprised to be sent back to the hospital, still blissfully unaware of the fact she was only hours from death, as her pain was down to necrotising fasciitis—a flesh-eating bug, which was chomping its way through her body.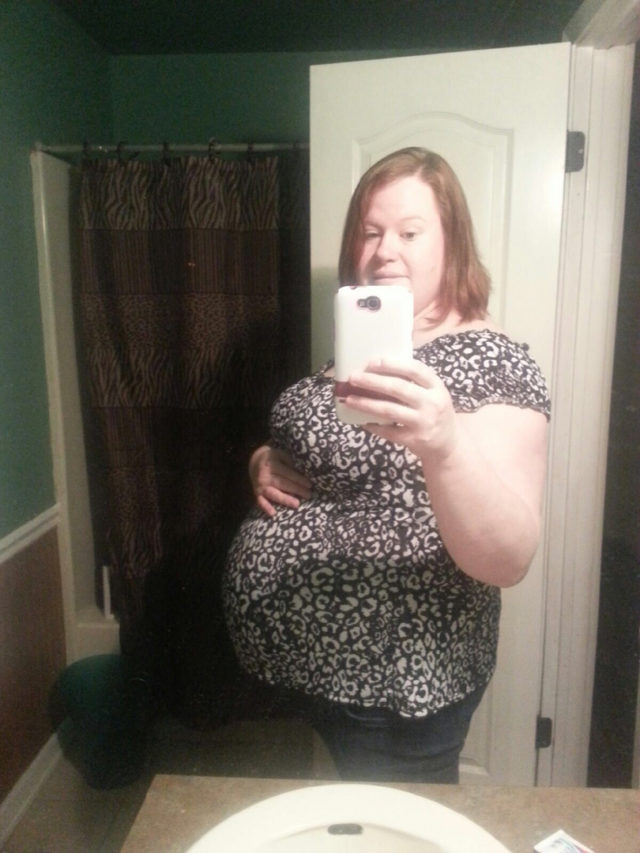 Ashley while pregnant with Jude (Collect/PA Real Life)
Hospital medics, realising something serious was happening, ordered a CT scan, which revealed that most of lower abdominal muscle wall—a layer of muscle between the organs and the skin—was being eaten alive by a flesh-eating bacteria.
"Everything then happened really quickly," said Ashley. "Before I knew it, I was lying in the operating room having my stomach ripped open."
"It was such a race against the clock that they didn't even have time to anaesthetise me, so I was awake as they cut my Caesarean stitching open again and cut the rotting flesh away. It was by far the worst pain of my life."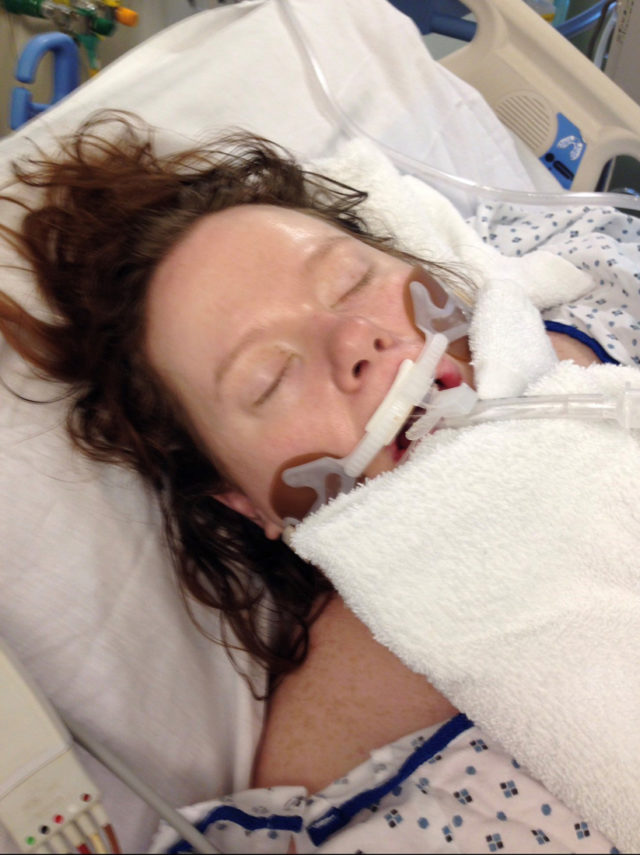 Ashley while in a coma (Collect/PA Real Life)
"The surgeons knew that if they waited any longer I was going to die because of this thing. It felt as though someone was ripping my insides out."
"The stench was so horrendous that surgeons were having to leave the theatre to be sick. It smelled like death."
After two more operations over the next two days, doctors were able to save Ashley's life, but her entire lower abdominal muscle wall had to be cut out and replaced with a pig skin mesh to hold her organs in place.

Ashley just before being induced (Collect/PA Real Life)
Following a total of 10 hours in surgery, she was put into an induced coma to protect her organs, which had started shutting down as the necrotising fasciitis took hold.
When she woke up six days later, she did not recognise her husband and could not remember giving birth.
But, with her memories returning after a week, Ashley formed a special bond with her newborn, explaining:
"Jude and I have this connection that comes from the very difficult passage he had into the world."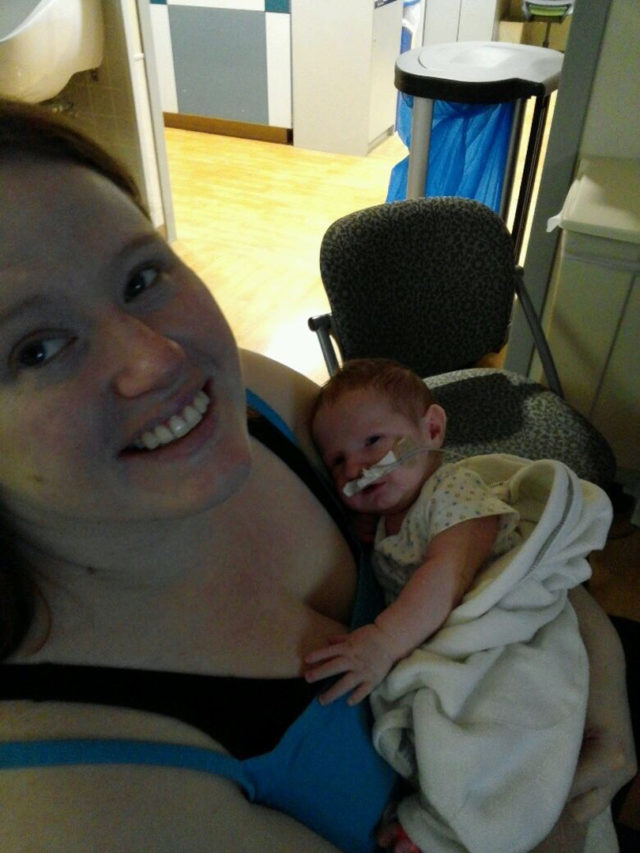 Ashley and Jude together in hospital (Collect/PA Real Life)
She continued:
"Once I had recovered enough to start taking care of him myself, I instantly became very protective of him, much more so than I am with my other children."
"He was without a mother when he really needed it in the first few weeks of his life and I feel like we went through a hell of a lot together—that really creates a closeness."
While Ashley recovered, spending three weeks in hospital, Jude was cared for by his dad and grandparents.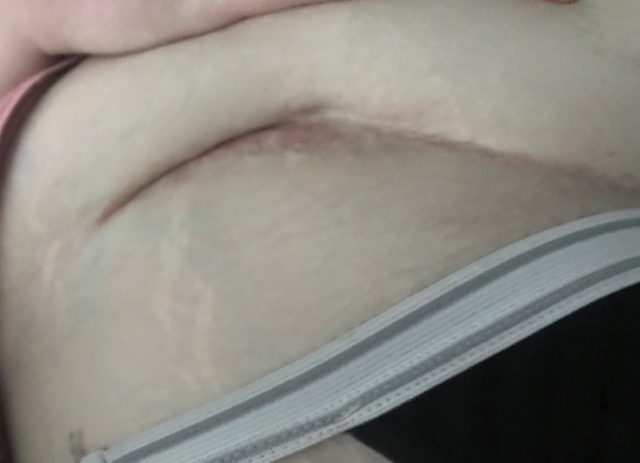 Ashley has been left with scarring across her belly (Collect/PA Real Life)
Meanwhile, her memories of the nightmare ordeal returned.
"It was surreal, completely surreal to think that I had had this horrible thing inside me, eating away at my flesh, and that I had been so close to dying," she said.
"I wanted to get myself better as soon as I could, so that I could be a mum to Jude and take care of him when he really needed me. That's what kept me going."

Eric and the couple's three sons, Chance, Jude and Hunter (left to right) (Collect/PA Real Life)
Now four years old, Jude has grown into a healthy little boy, doted on by his mum.
Sadly, Ashley's road to recovery has been a tough one, leaving her unable to work because of constant pain and swelling in her lower abdomen.
"I find it very difficult to stand up for long periods of time because my belly very quickly begins to bulge and become agonising," she explained.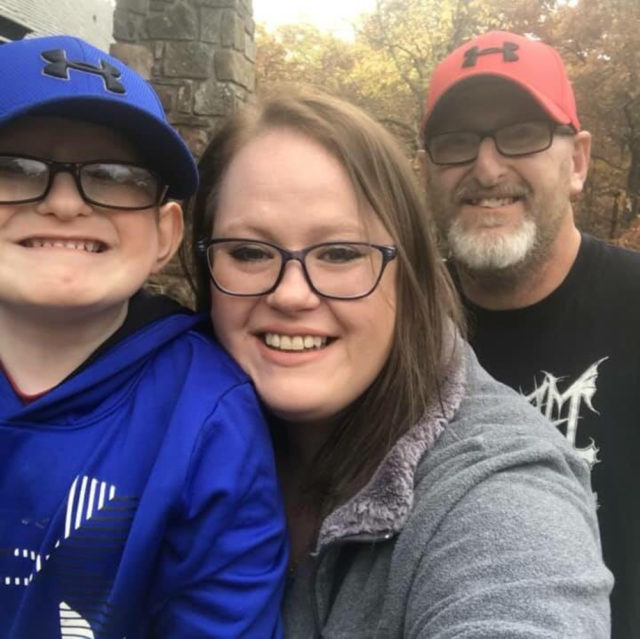 Ashley, Eric and Jude, now four years old (Collect/PA Real Life)
"I'm also covered in scarring, which really used to upset me," she added.
"Now, though, I have come to terms with it and with everything that happened to me."
"I'm not looking for pity or attention, but I really do feel proud that I survived this terrible ordeal."
"It is amazing what the human body can overcome, and now I'm just set on living as long as I can and being the best mother I can be to my kids."
A version of this article originally appeared on Press Association.