We're not 100% sure when it happened, but somewhere in recent history the rest of the world caught on to what many proud and noble nerds already knew: Jeff Goldblum is bae. Most people's introduction to Goldblum happened somewhere in the '80s, around the time of The Fly or Earth Girls Are Easy. There wasn't a hotter couple than Jeff and his then-wife, Geena Davis.
Bask in the '80s hotness. 
His first credited film role was actually in the '70s cult classic Death Wish. Even if you've seen the movie, you may not remember Jeff's riveting take as "Freak #1."  Since then, he's been working pretty steadily. Goldblum has over 40 films to his credit. Somewhere after Jurassic Park, his status as Hollywood Hottie took a strange left turn and he ascended to some sort of pop culture legend.
We're pretty sure it had something to do with this perfectly meme-worthy moment and the rise of internet culture: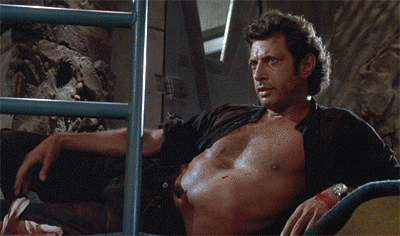 The rest of the world may have finally caught on about Goldblum's total Zaddy status, but there is still one amongst us who may love Jeff a little more than everyone else. Enter James Corden. Corden re-worked Ariana Grande's new hit "Thank U, Next" into a love song about the many, many talents of Jeff Goldblum. Did you know he plays piano? James Corden knows. James Corden also knows tons of his roles and sang about the glory of Goldblum's pecs. The video is full of fabulous gifts, like Corden singing while backed by a row of dancing Goldblum characters. There are also dancing t-rexes, so… yeah.
Welcome to your new favorite jam of 2018. 
When James shared his Ode To Jeff with Twitter, people LOST IT in the best possible way. 
Hahahahaha 🤣 hilarious 😂 I'm so freaking grateful for his pecks, thank you Jeff 🎶 😆 👏🏼 👏🏼

— Jessika.G ™ 💜 (@Jay_Lu_Sal) December 6, 2018
The first thing I've seen this morning and its amazing. Thanks for the early morning laughs. #thankujeff

— ʝεηηḯḟεя 🦋 (@GennaGemini) December 6, 2018
Things I didn't know I needed, but now cannot live without

— 🌈Sage (@sagebell) December 6, 2018
You're going to have this song stuck in your head for the rest of the day and, honestly, you're not even going to be that mad about it. You know it, we know it, Jeff Goldblum knows it. And yes, we're so friggin' grateful for his pecs.