A bright blue light lit up the New York skyline on Thursday night after a transformer exploded at an energy facility.
The blast prompted a brief fire at a sprawling Con Edison facility in Queens—but no injuries—and a spectacular illumination that generated a flurry of online commentary.
The explosion affected subway service in the area and caused a brief ground stop at LaGuardia Airport, which experienced power outages.
On at @JetBlue flight into #LGA had to pull out of our landing at the last second, hard, to avoid landing in a blacked out airport

— Steven Bower (@raggylugthumps) December 28, 2018
Power has just come back on at LaGuardia, and there's chatter that a flight is deplaning. No direction yet from any security or airport personnel.

— Bill San Antonio (@Bill_SanAntonio) December 28, 2018
Governor Andrew Cuomo described a "major electrical failure" at the electrical substation along the East River, near the Rikers Island prison complex and across a small bay from LaGuardia.
Watch footage from the explosion here.
The skies over New York City turned bright blue Thursday night after a transformer explosion in Queens.

"The lights you have seen throughout the city appear to have been from a transformer explosion at a Con Ed facility in Queens," NYPD posted on Twitter. https://t.co/pOzlfjuFS1 pic.twitter.com/CWCSJEo6Li

— ABC News (@ABC) December 28, 2018
A transformer explosion at a Con Ed plant in Queens lit up the night sky over New York City, turning the skyline bright blue for a moment and frightening residents in the process. https://t.co/hHMO4TQqsH pic.twitter.com/3D1d2pDdUW

— ABC News (@ABC) December 28, 2018
Transformer explosion at a Con Ed substation turns the sky blue in New York City; reports of power outages pic.twitter.com/2I6NzdWlka

— BNO News (@BNONews) December 28, 2018
Power had been largely restored to LaGuardia by 11pm and the airport resumed normal operations.
The lights caused a stir on social media as several witnesses posted photographs and videos of a bright, blue flash that filled the night's sky.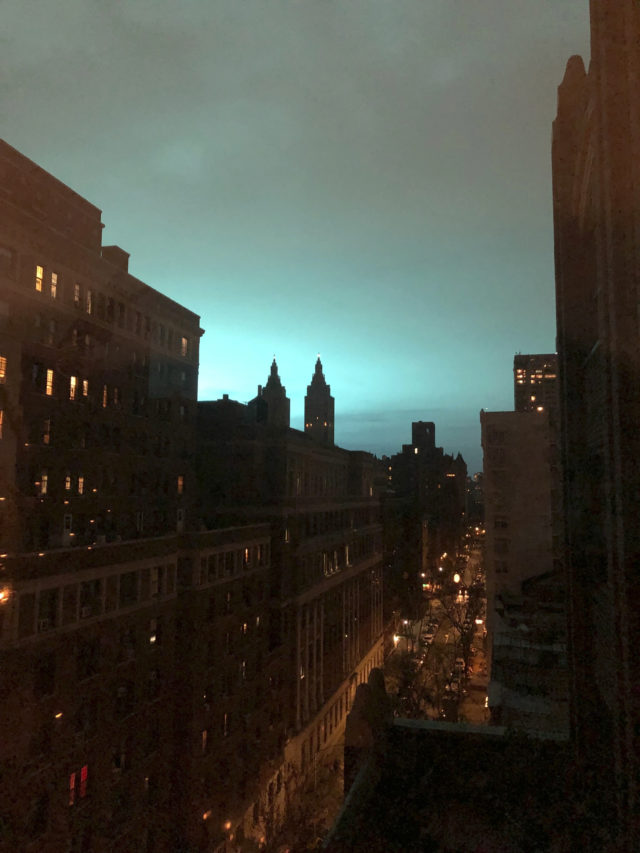 Blue light was cast over New York, as seen from Manhattan (Jay Reeves/AP)
The Manhattan skyline and iconic East River bridges were suddenly silhouetted against a backdrop of pulsating light.
People flocked to social media to find out what happened and to share their views of the plumes of smoke pouring from the transformer.
Said Madeleine Frank Reeves, who saw the lights from her Upper West Side apartment:
"It was pitch black outside and then suddenly the whole side of the eastern sky was lighting up and changing colors. It lasted a couple of minutes."
Some observers wondered whether aliens were invading…
here's a second look with the Queens 7 train approaching and the brilliant blue sky lighting up overheard. went on for maybe 3 minutes total

alexa show me what the alien arrival looks like pic.twitter.com/NmZNXIybLD

— J.D. Durkin (@jiveDurkey) December 28, 2018
📍me seeing blue light in nyc
|
|
| _ _ _ _ _ _ _ ____ _ _ _ _ _______
|
📍completely logical answer |
_ _ _ _ _ _ _ _ _ _ _ _ __ ______|
|
|
|
📍 𝗔𝗟𝗜𝗘𝗡𝗦

— Spencer Allan Brooks (@SpencerSays) December 28, 2018
…others joked that the trend of gender reveal parties had finally gone too far.
These gender reveal parties are getting out of hand! #Astoria #Queens #NYC #Bluelight pic.twitter.com/EQS2afci6L

— JT Chan (@jtchan77) December 28, 2018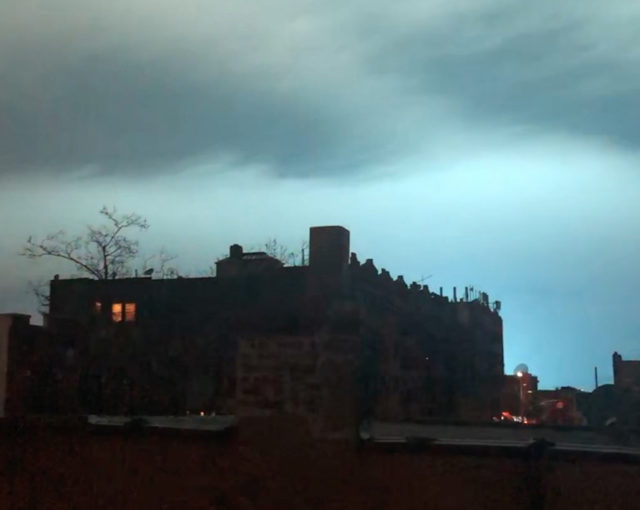 New York police said a transformer exploded at a Con Edison facility in Queens (Sophie Rosenbaum/AP)
Television host Keith Olbermann referred to the episode as the "Blue Light Special."
Here's a second video of the Blue Light Special over the northeast skies of NYC at about 9 PM ET. There is a suggestion there was an electrical plant fire in Queens that could've produced this – it fits geographically and, with the cloud cover, optically pic.twitter.com/glU5Z70nfO

— Keith Olbermann (@KeithOlbermann) December 28, 2018
"Something insane is happening in the sky above Manhattan right now," New York University sociologist Eric Klineberg wrote on Twitter under a video of the flashing sky.
Mayor Bill de Blasio's spokesman Eric Phillips tweeted that the lights were attributable to a "blown transformer."
"Not aliens," Phillips tweeted.
Governor Cuomo reiterated that it was "not aliens."
Gov. Andrew Cuomo addressed rumors of an "alien invasion" after visiting the Con Ed facility and seeing the damage caused by an electrical fault for himself. https://t.co/31P7qHQG5A pic.twitter.com/dNJMb9FXlY

— Eyewitness News (@ABC7NY) December 28, 2018
John Tebbett, who lives two blocks away from the facility, told NY1 the explosion was followed for about five minutes by a loud roar.
The blast had caused the lights in his home to flicker off and on, he said.
People shared more than alien theories online, including some creative editing.
myserious blue light either means aliens or radioactive waste or some type of magic thing and frankly none of those sound like a good thing to be around if you're in New York

— e. m lain (@iceee43) December 28, 2018
The internet Wins again… 😂😂😂#Bluelight #BlueSKY #NYC pic.twitter.com/p6o7s9xivr

— FASE BLANCO (@YoungFase37) December 28, 2018
The massive blue light emanating over New York City means the Giants have just given Eli Manning a contract extension. Like how we announce the Pope.

— Dianna Russini (@diannaESPN) December 28, 2018
I'm tight cause I KNOW someone just got superpowers from that blue light. #bluelight #nyc. pic.twitter.com/NwGXmuTAoJ

— Malik (@AintNoHeroes) December 28, 2018
It's obvious who's behind the blue light in NYC…. y'all better deliver The Batman…. 😂😂😂😂😂 pic.twitter.com/LsI5t1uss8

— dj spydermann (@djspydermann) December 28, 2018
Actual footage of what happened in New York #bluelight pic.twitter.com/FZc1QjLNkU

— Markese Freeman (@KESE_86) December 28, 2018
Everyone's reaction to the blue light/ConEd explosion in Astoria in NY is proof that we would really be out here making memes .3 seconds into any alien takeover.

— Sara Alfageeh / ساره الفقيه (@TheFoofinator) December 28, 2018
Y'all said blue light in the sky? Bet. pic.twitter.com/3UzjwgZXGN

— lez. (@LesThePrez) December 28, 2018
Don't worry, the insane blue light exploding over New York was definitely because of a faulty power plant, just like the explanation the government uses in every alien invasion movie ever.

— Alex Zalben (@azalben) December 28, 2018
Guys this was a sky portal, you can't fool me pic.twitter.com/yuGDQJWed5

— Alex Zalben (@azalben) December 28, 2018
It would be something if the bright blue light above Queens finally faded, and Amazon HQ2 was suddenly sitting there fully constructed.

— Jason Roeder (@jasonroeder) December 28, 2018
"There is no Dana. Only Zuul." #bluelight #astoria #queens pic.twitter.com/zUurBMGZnG

— Holly Figueroa O'Reilly (@AynRandPaulRyan) December 28, 2018
Strange blue light over Manhattan is magic from another dimension of talking horses https://t.co/qpzskpmcx6

— Lobo Nox1313 (@Lobo_Nox1313) December 28, 2018
Don't worry; there is a perfectly logical and plausible explanation for the blue light over New York City.
Just like in every horror or sci-fi movie ever.