Dwayne "The Rock" Johnson has, once again, proved himself to be one of the nicest guys around.
The world-famous actor and producer decided to take some time out while filming the Fast and Furious spin-off Hobbs and Shaw and partner up with the Make-A-Wish Foundation, Rays of Sunshine Children's Charity and Starlight Children's Foundation.
He met three sick children, Cameron, Lucy and PJ.
The kids got the VIP treatment.
They even got a chance to explore some of the cars and motorcycles from the movie.
Johnson gave them a grand tour on set, introducing them to people like his co-star Jason Statham.
The 46-year-old former wrestler encouraged 6-year-old Lucy to sing "How Far I'll Go" from Moana.
She knew all of the words…
…after all, it is her favorite movie of his!
The cast and crew gave a warm round of applause as Johnson gushed about the pint-sized heroes:
"We are lucky to play heroes. They are really like superheroes because they're super, super strong – way stronger than we are."
And of course, Johnson couldn't go without loading them up on presents!
He gave each of them a seasonal Dwayne "The Rock" Johnson Christmas sweatshirt, a beanie, headphones and an Xbox gaming pass.
One of the children said he didn't have an Xbox, and the actor proceeded to tell the children that he got in touch with Microsoft, and had them customize three gaming consoles, each donning a gold Hobbs and Shaw on the front.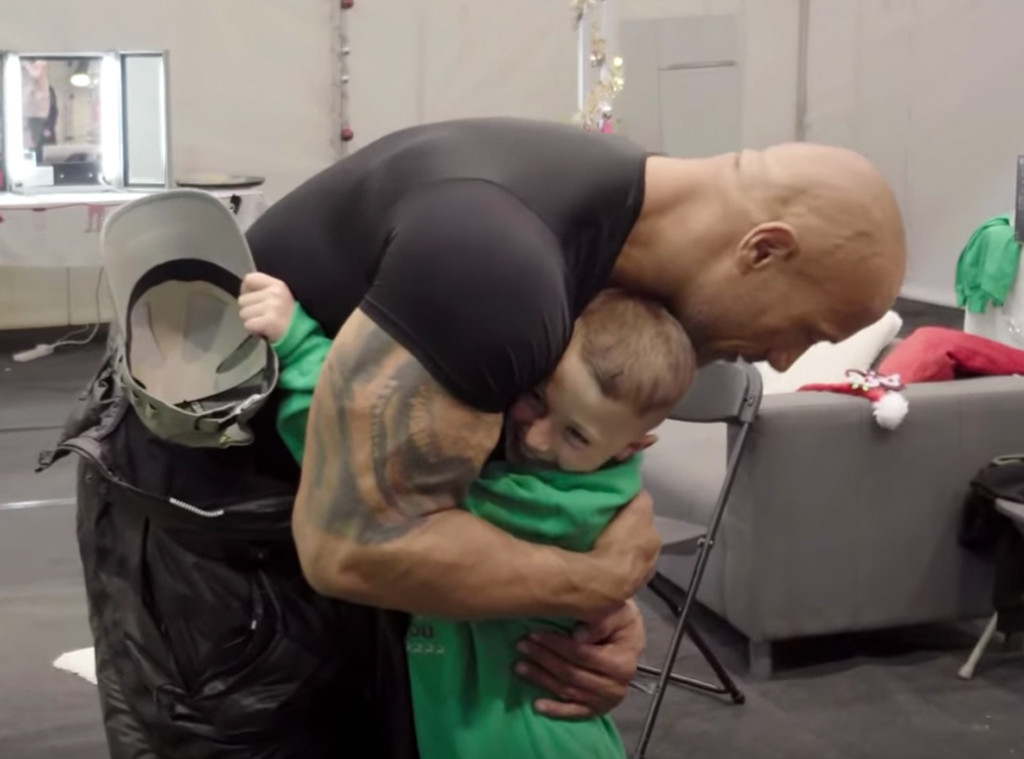 To make sure each of them had a sweet holiday season, he gave each a box of his signature, homemade chocolate chip cookies.
Of course, this went down as one of the most incredible days imaginable for the children.
P.J. called the once-in-a-lifetime experience "a dream come true" and Cameron said it was "absolutely incredible." Meanwhile, Lucy noted "I think I will remember this for a long long time."
But despite being able to meet their hero, take a tour on set and be showered in presents, Johnson assured the pleasure was all his:
"To spend time with P.J. and Cameron and little Lucy—just to see them smile and have a great time and to bring a little bit of joy in an otherwise pretty challenging time is just very, very special."
"Man, I got the best job in the world. This kind of stuff is easily, easily the best part of my fame. I'm lucky."
Watch the heart-warming video below (and make sure you grab some tissues beforehand).
Fans praised the actor and all-around amazing dude…
…and for continuing to be humble – despite being one of the most famous people in Hollywood.
He is called The People's Champion for a reason!
People also said he was a great example and an awesome role model for children to look up to.
No arguments there!
Who put this bowl of onions near us? We're not crying, you are…