Most people think of the battle for Wakanda was the first time Michael B Jordan and Chadwick Boseman have battled it out – but hardcore soap opera fans know that's not exactly the case. Way back in the olden days of 2003, both men actually played the same character on the long-running drama All My Children. Chadwick Boseman, who was 25 at the time, took a crack at playing Reggie Porter first. It didn't last long, Boseman appeared as Reggie for just under two weeks before being replaced by Michael B. Jordan, who was 15-years-old and a relatively new actor at the time.
Believe it or not, with all of the press the two men have done together, nobody has asked them what happened – until now. When speaking with The Wrap, it finally came up and both men seemed kind of excited to talk about it. Jordan even joked about the interviewer finally being the one to do it, saying:
"This is the first time anyone has ever asked about that! We've done this so much, and you're the guy, you're the one"
Folks, we finally have the story of how the All My Children recast went down and now we just assume things back stage looked like this: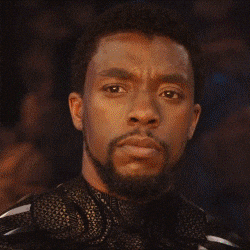 So Chadwick Boseman had the role first, but show writers really didn't seem to be sure what they were going to do with the character. It didn't take long before they started to turn Reggie into what Boseman felt was a negative stereotype. He knew complaining could get him replaced – it's not uncommon in soap operas where the cast has a decent amount of flexibility. He mulled it over for a while and finally decided he needed to speak up. It didn't end well for Boseman, but he doesn't regret it.
"When I got it, I was like, 'This is not part of my manifesto. This is not part of what I want to do. How can I make it work?' Because with a soap opera, you don't know the full scope of what's gonna happen — you don't know where they're gonna take the character, because they don't always know where the character is going. And because of that, there's possibly room for me to adjust this and change it and make it so it's stereotypical on the page but not on the screen. I had to voice my opinions and put my stamp on it. And the good thing about it was it changed it a little bit for [Michael B. Jordan.] They said, 'You are too much trouble,' but they took my suggestions, or some of them. And for me, honestly, that's what this is about."
Jordan didn't know any of the back story about why Boseman was replaced to begin with. All he knew at the time was that he was coming in to take over the character of Reggie. He handled the role til 2006 and the character went from typical troubled teen to being adopted, portrayed as loyal and loving, and moving on to college. Jordan had no idea that a lot of that happened because Boseman spoke up. He may have been fired, but Boseman's risk paid off for both the character of Reggie and Michael B. Jordan as an actor.
Jordan responded with a sense of gratitude.:
It's so wild to hear you say that. I'm younger than Chad, and I was coming into All My Children fresh off The Wire — wide open, still learning. I was playing this role not knowing that a lot of the things I was going through were because of what he'd already done for me. It's hard to speak in the moment about how things we do can affect other people. But this is a pure example, right here on the spot — we ain't never talked about this before a day in our lives — to understand how what people do now can directly affect what other people do in the future. And the work that we're doing on Black Panther is hopefully doing the same thing for the next group of actors that are coming up, just like our predecessors opened up doors and made things easier for us.
Twitter loves this.
????Chad???? sorry but I don't blame him.

— Impeach trump (@souljahpooh) January 5, 2019
That's why my crush on Michael B Jordan finally makes so much sense. I first saw him on AMC but with how much he has transformed his craft makes him almost unrecognizable to that position long ago!

— cj (@condorsett) January 5, 2019
Interesting. Well can't say im surprised @ all that #ABC pulled a stunt like this. They are good for casting us as a cliche stereotype… ???? https://t.co/hGvBoL3Ggz

— ColBKeringtonDeverow (@Dynasty_Dreams) January 4, 2019
This is beautiful ????

Irrespective of our professions may the goal remain to break down barriers for those to follow ❤✊

— Moeteledipele.???? (@LebogangRxx) January 4, 2019
Hopefully both actors continue working hard to break barriers and open doors. We can't wait to see what each does on screen next.