Audiences loved Black Panther. The cinematography was great, the storyline was strong, and the characters and actors had great on-screen chemistry. The chemistry was so good that the internet was soon flooded with theories about who was secretly in love with who. Fan-fiction stories hit the internet in a tidal wave of imagination. Side note: we read a ton of fan-fic in preparation for this article and half of you writers should be ashamed of yourselves! The things you've done with these characters! How many different thick-cut bacon analogies can you people make for M'Baku? Please write more immediately and send it directly to our email. We can't get enough. Anyway, we know the internet's deepest fantasies now and we're here to add a little fuel to that fire. We know your thirst is real. We've read all about it.
Evidently the actors know what you want, too. Lupita Nyong'o, Michael B. Jordan, and Danai Gurira gave the world one seriously amazing gift. The trio hung out at the InStyle Golden Globes after-party and hatched a plot. The party featured an elevator as a photo/video booth. Plenty of celebs used it to make seriously stylish entrances, but the trophy for best use of the booth absolutely goes to these three.
They staged a moment that has us all like: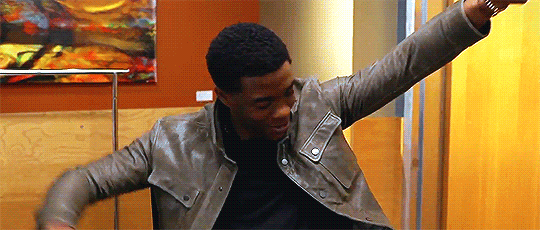 Let us prep you for what you're about to witness. The scene starts with Danai walking up to the elevator and pushing the call button. The doors open on Lupita and Michael in the middle of a kiss. The two compose themselves and Danai, as unfazed and powerful as her character, slides in, adjusts her gown and then pushes Michael away and pulls Lupita in for a convincingly passionate kiss. As the doors close, we just barely catch a glimpse of the two women and Michael running back in to join the party, which is clearly already in progress.
The video hit the internet like a tidal wave. Danai posted it on her Instagram with a caption that recalled the beginning of the film where T'Challa freezes when he comes face-to-face with Lupita's character, Nakia. Okoye, played by Danai Gurira, has a little laugh at his expense.
Danai? She NEVA freezes.
Let's check in with Twitter to see how they're doing over there…
Well, if you're not using
that Michael B Jordan right now,
could I maybe…

— Tommy Cross (@JollyReprobate) January 7, 2019
I thought that too! I feel like Michael was rushing over to help them right at the end!!!

— Jessica Broadbent (@JessTheReader) January 7, 2019
Yup. We think Twitter is going to be just fine.