Well, Hollwood-lovers, the Oscar nominations are out and as per tradition, they're kind of a mess!
On one hand, the Academy's efforts to diversify its membership–including a plan to double its female and non-white membership by next year–seemed to have paid off somewhat since the effort began in 2016.
Foreign films and talent are all over this year's nominations; and while 2016 saw not one of the major categories' noms going to a non-white person, 2019 is full of color. (Even if one of the Best Picture noms, to borrow Indiewire's parlance, "should come with an asterisk.")
Anyway progress! So that's good! But then we get to the snubs. Which are egregious! The most egregious of which is If Beale Street Could Talk, which is not the subject of this article but it needs to said! Like that is the Best Picture category of the Literally What Are You Guys Even Doing Oscars.
But when it comes to, let's say, Best Supporting Outstanding Achievement in Getting Literally Everything Wrong at the 2019 Oscars Seriously Why Are You Guys Like This category, the Oscar goes to… oh my gosh this is so exciting… ugh I can't get this envelope open hahahaha!
OH MY GOD IT'S TONI COLLETTE FOR HEREDITARY!!!!!
I mean HONESTLY ARE YOU SERIOUS???? The woman won EIGHT critics' awards, was nominated for SIX others, is probably gonna win the Independent Spirit Award (okay no Glenn Close probably will but still) and her performance is literally what makes the movie scary. And nothing?!
I mean, when I saw it, some people had to walk out during the scene when Toni was just crying about a thing.
She hadn't even sawed her head off yet or anything! She was just crying! But it was so real and visceral, people couldn't hang!
When I get up to go potty in the middle of the night I have to reassure myself that Toni Collette is not hovering in the corner of my ceiling stalking me and I saw this movie almost a whole-ass year ago!
And nothing?! Nothing from the Academy?! Literally NOTHING?!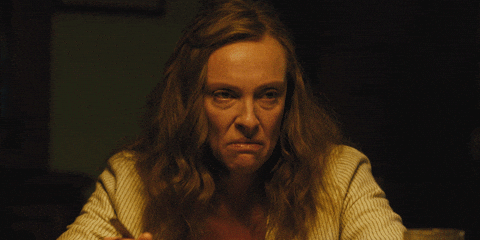 But this is the greatest moral outrage of our time! Okay no the entire White House as currently composed is, but still! It's gotta be at least *tallies all the moral outrages of our time, runs out of math* IDK in the Top 1 Million! At minimum! And I'm DONE! And let you think this is mere histrionics, the internet is NOT. HAVING. THIS. EITHER!
But, at least we have two bits of consolation: Toni Collette became an emoji…
And some magical person made a Cher/Hereditary mash-up:
And if an Oscar snub is what it took to get that thing we never knew we needed, well… then it all works out in the end.