A former high-flying insurance broker has told how she now can't lift up a kettle—for fear of dislocating her wrist and bending it all the way back to her forearm as it pops out of its socket.
Claire Simpson, now 24, from Great Missenden, Buckinghamshire, England was always fit and healthy.
But then, she was suddenly stuck with a devastating genetic condition Ehlers-Danlos Syndrome (EDS), which weakens the body's connective tissues, forcing her to give up her job and move back in with her parents.
Claire was eventually diagnosed with EDS in May 2017 (Collect/PA Real Life)
Now she dislocates her wrists up to five times a month and admits her injuries "can look quite horrifying"—but at the age of 21, there was no sign at all that anything was wrong with her.
She seemed to have her life sorted, with an exciting job in London and a loving boyfriend, James Kanter, now 29, when in June 2016 she suddenly lost control of her bowels in the office one night, then collapsed on the underground on the way to work the next morning—the last time she ever commuted.
It was the first sign that she had EDS, and her symptoms gradually worsened from there but, for almost a year, Claire had no idea what was wrong with her, and said:
"It was incredibly frustrating because I just wanted to go back to work."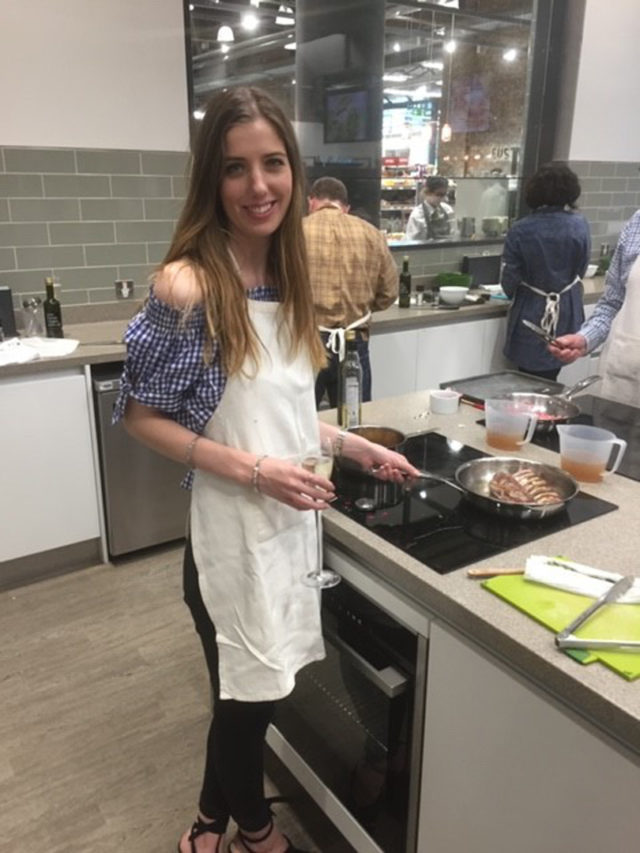 Claire has several times dislocated her wrists lifting a filled kettle due to the weakness in her joints (Collect/PA Real Life)
She continued:
"I felt like I was both letting people down and making a big fuss when actually the doctors couldn't see that there was anything wrong with me."
"I had basically become an invalid within the space of just days and couldn't leave the house. It all happened so quickly."
As she worried about her frequently upset stomach, though, Claire had no idea she was missing a major clue as to what was wrong—her joints started popping out a couple of weeks after she collapsed on the tube.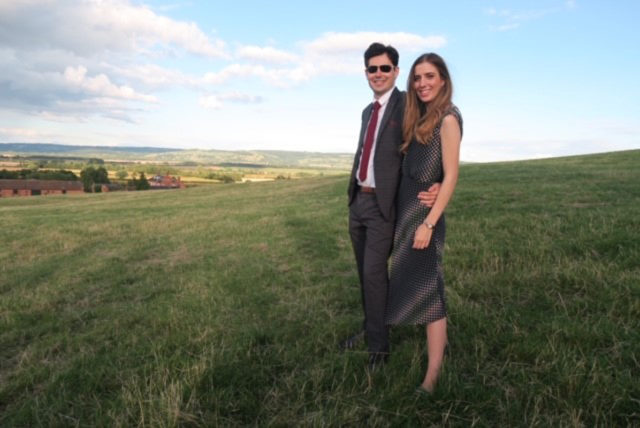 Claire and James have been a couple since 2014 (Collect/PA Real Life)
She said:
"My joints—in my fingers, wrists and knees—would pop out so often that after a while, it just became part of daily life and I would click them back in myself, not thinking too much of it."
"I was often making hot water bottles to ease my frequently upset stomach and just picking up a kettle would sometimes pop my wrist out of place, which would look quite horrifying as it would become bent all the way back to my forearm."
Over the course of the year, Claire's symptoms gradually worsened.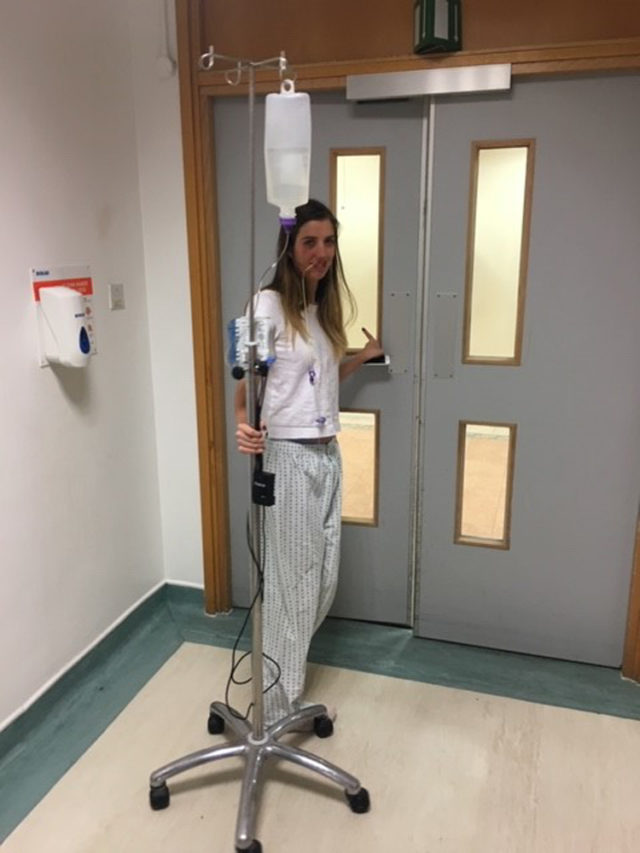 Claire in hospital (Collect/PA Real Life)
She was frequently caught short when needing the bathroom, or collapsed in the street when her joints were no longer able to support her.
Eventually, she was diagnosed with Hypermobile EDS, a rare and incurable lifelong condition, caused by faults in certain genes, which can be inherited but in some cases – as with Claire – can occur by chance in someone without a family history of the syndrome.
The effects it can cause include loose, unstable joints that dislocate easily, joint pain, clicking joints and digestive problems.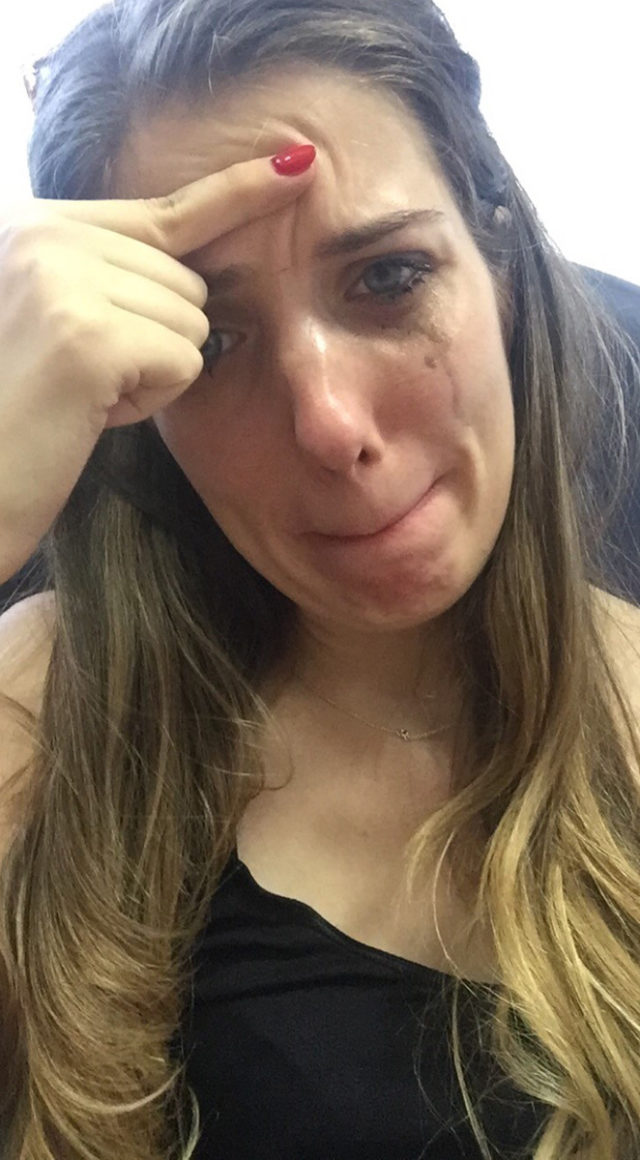 Claire was diagnosed with Hypermobile EDS, a rare and incurable lifelong condition (Collect/PA Real Life)
She said:
"I actually cried with happiness when I was eventually diagnosed because I felt like my life was being eaten away by this illness, even though I knew it meant that it was going to change my life forever."
Now faced with the prospect of never being able to return to work, the former broker could also be dependent on the help and support of others for the rest of her life.
Despite the gloomy outlook, however, Claire is determined not to be cowed by her chronic illness and now writes a blog entitled The Hopeful Chronic as an outlet for her feelings and a way to communicate many of the emotions that have pent up since getting ill.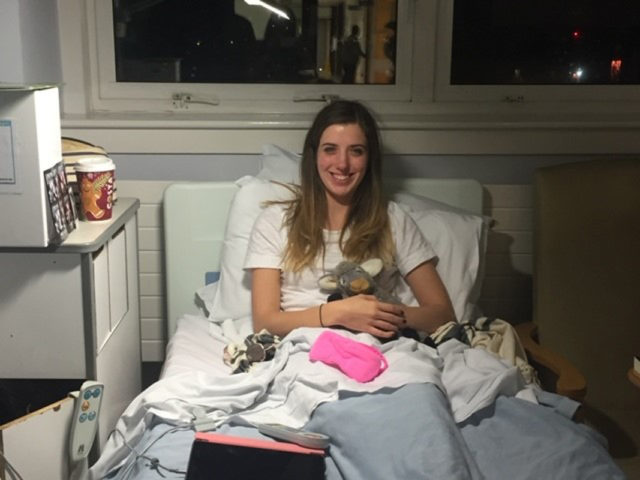 Claire writes a blog entitled The Hopeful Chronic as an outlet for her feelings (Collect/PA Real Life)
She said:
"I'm not going to just roll over and accept my illness, so I'm constantly looking for new treatments and trying to find new ways of coping with this."
"There are of course times though when it can all get a bit much, and when I consider how I was before I developed EDS, it can be a bit like looking at a totally different person's life."
"But then I remember that there have been some positives from this too. My family have been amazing but in particular my boyfriend James."
Claire says James has been phenomenal in helping to care for her (Collect/PA Real Life)
She continued:
"He's been absolutely phenomenal in dealing with some medical stuff and still loves me even after several times witnessing me having to empty my bowels in the middle of the street."
"So as horrible as it has been at times, this syndrome has brought me closer to the people I love."
Before her life changed forever, Claire had never suffered from any major illness in her life aside from a case of gastroenteritis, a common tummy bug, in 2015.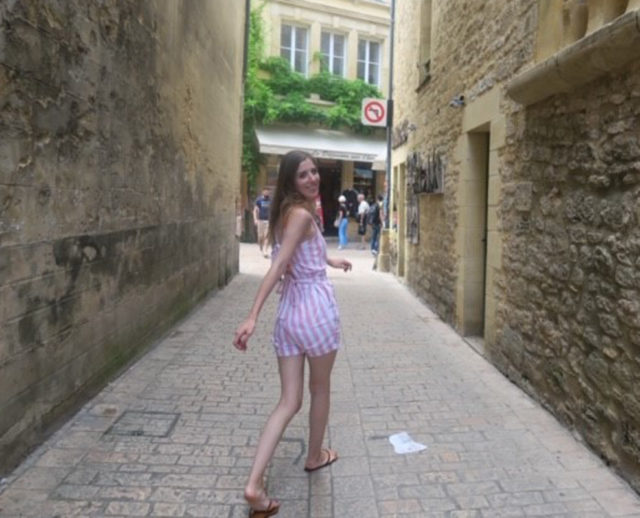 Because of her condition, which weakens the body's connective tissues, Claire dislocates her joints up to five times a month (Collect/PA Real Life)
So when in June 2016 she began to have stomach pains and diarrhea, she assumed the bug had returned.
She recalled:
"I was in the office late one night, about to go out to the theatre with James."
"I'd had a bit of a funny tummy all day but didn't think anything of it, but then suddenly I felt a surge down there and completely lost control of my bowels, releasing before I was able to get to the toilet in time."
Claire and her boyfriend James on holiday in Italy, one year before first becoming ill (Collect/PA Real Life)
Embarrassed by the incident but not thinking too much of it, Claire returned to work the following day, joining James, a management consultant who she had met in 2014 through an online dating website, on the morning commute from their shared flat in Maida Vale, north London.
But beginning to feel weak while standing on the crowded rush-hour tube train, Claire realized her mistake in returning to work so quickly.
"I was feeling very faint and my heart was beating very weakly. I don't remember much but James tells me that I collapsed on the tube and was then rushed by ambulance to University College Hospital (UCH) in Euston."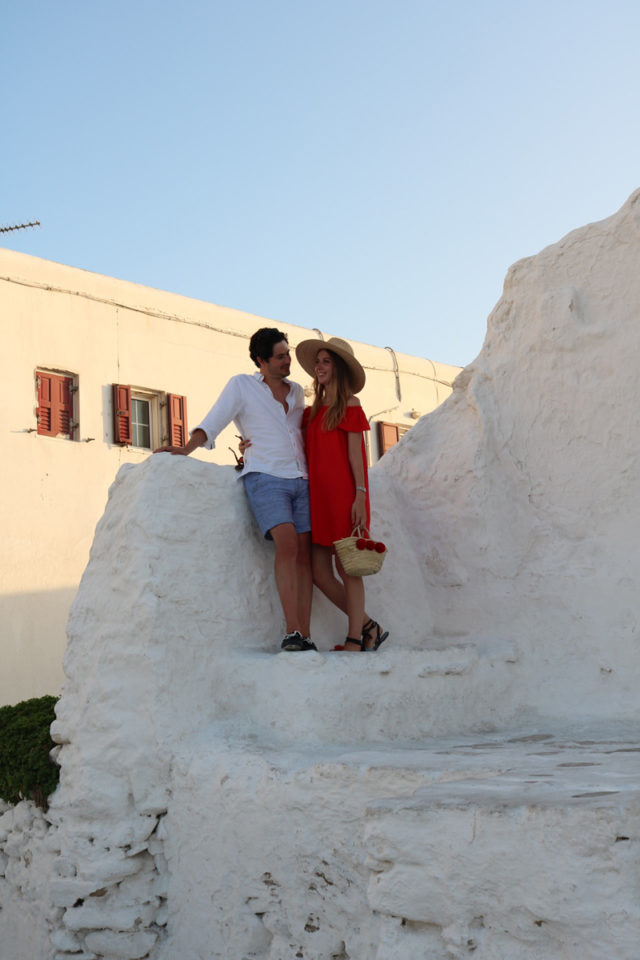 Claire and James have now moved in with her parents to help with care (Collect/PA Real Life)
After blood tests, it was thought her loss of consciousness and bowel problems were down to an infection, most likely gastroenteritis, and she was told to rest at home.
But little did she realize that that would be the last morning she would ever travel to work, as over the coming weeks Claire's state of health became increasingly worse with more fainting episodes and loss of bowel control.
Visiting her GP repeatedly, though, the broker, who then was just 21, was given no concrete answers as to the underlying cause of her mysterious complaints, and having passed cancer screenings, bowel inspections and heart tests, she was still none the wiser.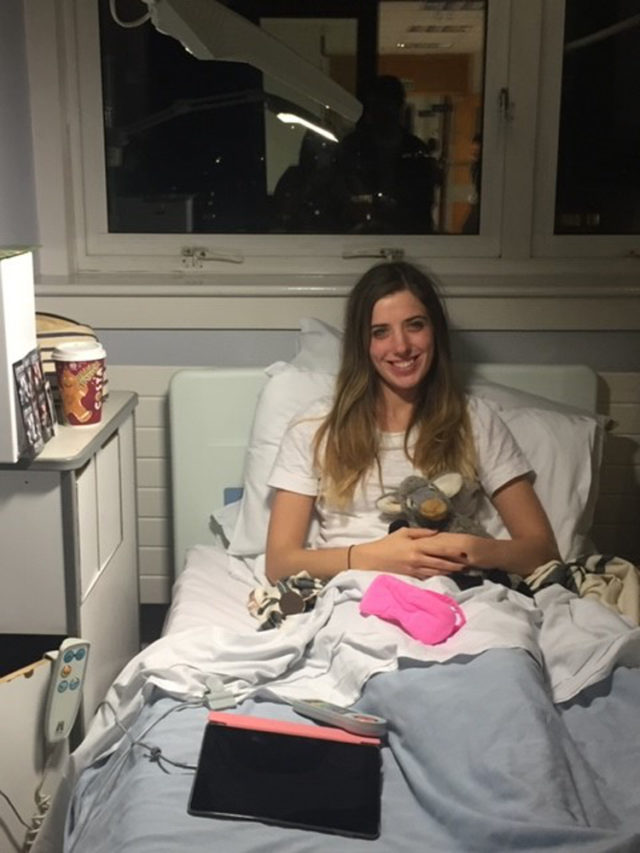 Claire in hospital (Collect/PA Real Life)
Relying on help from James and her friends and family to help care for her, Claire's connective tissue weakness—known as hypermobility—had become so bad that she would routinely dislocate her wrists when lifting objects as heavy as a filled kettle.
After a year of unabated illness, with doctors still mystified by the unusual combination of ailments she was suffering, Claire finally had a breakthrough when a masseuse she went to see for her joint pain in March 2017 suggested that the cause of her torment could be EDS.
Diagnosed two months later at the London Clinic on Harley Street by a rheumatologist, Claire was elated to hear the news, despite the fact she was told there was no cure and that she might one day have to use a wheelchair.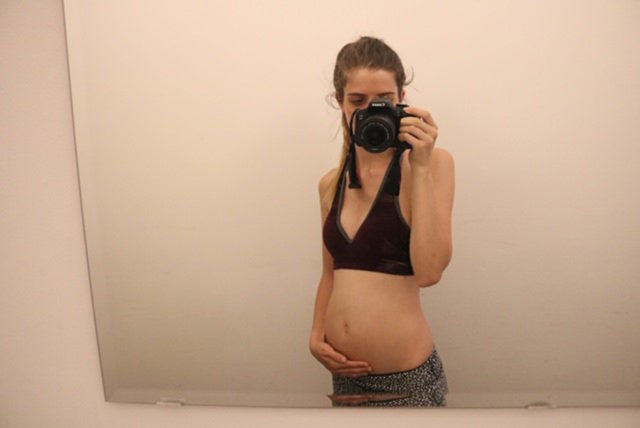 Claire's colon has been significantly damaged by the effects of the condition, causing her problems with her bowel movements, including constipation (Collect/PA Real Life)
She said:
"It sounds strange but James and I were so happy because it meant to some extent that we could move on with our lives."
"I know he had been so worried about me, even though he didn't often like to show it, as he wanted to be a support for me."
"But that day he burst into tears—we both did—knowing that finally some progress was being made."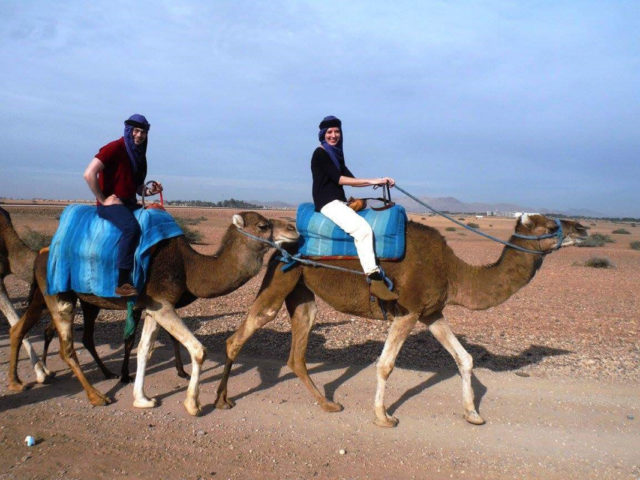 Claire and James on holiday before she first became ill (Collect/PA Real Life)
Since then, she has started to tentatively rebuild her life, finding ways to mitigate the effects of her illness, such as using an at-home bowel irrigation system and a special kettle that is easier for her to lift without the risk of dislocating her wrist.
In November 2018, however, the couple decided that they should move together to Claire's parents' home in Buckinghamshire to lessen the pressure on James, who continues to work full-time.
But Claire is hopeful that one day medicine will catch up with her condition and offer her some kind of relief from her ailments that have snatched away her independence.
Claire has to use an at-home irrigation system to help with her bowel movements (Collect/PA Real Life)
In the meantime, though, she is able to find some comfort from the fact that her relationship with James has been made ever closer by their joint struggle in dealing with the syndrome.
"There are not many boyfriends in their 20s who have to help their girlfriends when they lose control of their bowels in public, or fall over because their knee has dislocated," said Claire, who has to wear sanitary pads constantly.
"But despite all that, we are still together because I know that he loves me for who I am and not what EDS has done to me. And that gives me a feeling of incredible joy."