Last night was the big moment: the official end of the Game of Thrones era! And the finale episode was full of surprises (don't worry, we won't spoil any of the important ones here!).
But perhaps none were more impactful than, well, to be honest, the impacts of puberty upon the character of Robin Arryn!
What comes next could constitute a spoiler so you should turn back now.. although honestly the entire internet is yelling about this today so IDK what to tell you, to be honest!
In case you've forgotten, we last saw Robin, played by actor Lino Facioli, in season 6 when Littlefinger visited him to see how straight-up shi*ty his archery skills were. Remember that sad display?
Well, he came back for the finale last night to join the super important meetings at King's Landing to decide who's the new boss of the Kingdoms and blah blah blah etc and so on LOOK WHAT HAPPENED TO LORD ARRYN IN THOSE INTERVENING YEARS!
Not just A glow-up. Perhaps THE glow-up.
Hard to believe that the same gawky, sickly-looking, annoying little "mama's boy" Lord of the Vale from seasons past who can't shoot a bow and arrow for sh*t and also, it must be said…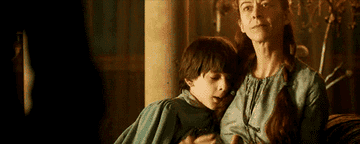 …was still being breastfed at the age of 10 or whatever… yikes… turned into this dashing prince of a thing!
Uh…wow.
And that word doesn't even do him justice.
And if you're feeling it too, you're not alone.
The internet was definitely 100% not ready but were 100% here for it.
And many noted the benefits of a specific diet.
Something also touted here in a commemorative GoT shirt.
And some people couldn't help but be reminded of another iconic gawky kid character who transformed into a full-on fox.
So there you have it!
It may not have been the most satisfying finale… and there was yet another drink-related filming gaffe… but at least Game of Thrones gave us this epic Robin Arryn glow-up as a souvenir!