Here we go again…
A high school near San Diego has found itself at the center of a sh*t storm as yearbook photos of its world language department have been deemed "culturally insensitive and in poor judgment" by the school's administration.
The photos feature San Pasqual High School's language teachers in costume. What sort of costume?
Your basic stereotypical "Pancho Villa" ensemble of sombrero, serape and curly mustache (plus some opera-length gloves and a beret for the French teacher).
(Personally my favorite part of this are all the spelling mistakes. So much for the language arts am I right?!)
The Escondido Union High School District where San Pasqual is located has been emphatic about the point that the photos were originally taken as the faculty members' school ID photos and were not intended for use in the yearbook. (And that makes it better… how?)
Reactions varied widely. Some parents and students were outraged, while others just thought it was funny.
Parent and former student Tania Marin thought the photos were amusing. As she told NBC San Diego:
"I think that lately everything is so sensitive. If they were teaching Russian and they had a Russian hat, I would find it hilarious."
Which… okay fine, but Russian garb doesn't carry the same history of racism and oppression, including, like, being left to die in tents in the Texas desert, like Latinx people are. So this isn't the greatest of points, since it's not really comparing apples to oranges?
But whatever.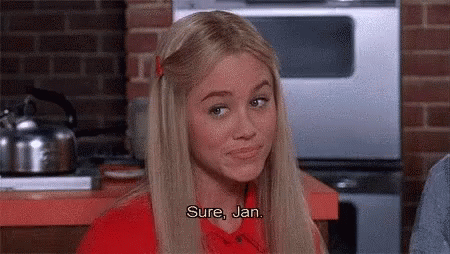 Other parents, though, were a bit more circumspect, including some of the school's Latinx parents.
For parent Martin Reyes, it came down to the teachers' intent:
"They could be offensive if they're making fun of us. But it could be something honorable if they're trying to do honor to the Mexican culture. It would be better without the big mustache and hats."
Regardless, the question remains: who thought this was a good idea? As parent Brooke Angaga put it:
As leaders in the school, that wasn't thought through very well. I'm sure it went through a lot of hands."
However, one place where opinions were decidedly strong, as usual, was the internet.
And the majority seemed to feel like this was all a little silly.
Hispanics are not that sensitive. Knock yourselves out. Make some fucking tacos while you're at it.

— I Like Turtles 🐢 (@rpizana3) May 23, 2019
You're almost there.. make it a diet coke

— MSN messenger (@HunsuckerJenni) May 23, 2019
Stop being so sensitive cabrones

— Sti1l_Matic (@Sti1l_Matic) May 23, 2019
Far more important things to focus on than this. Not that big of a deal.

— Edgar (@edricflo) May 23, 2019
I have that sombrero and have never been able to grow suck a prestigious mustache so would have to do the same if I was trying to go for the speedy Gonzales look too. This isn't worth freaking out about hombre

— Armando Esparza (@LeBelafonte) May 23, 2019
As an American of Mexican heritage, I think this is "muy gracioso." Offended people, chupen mi verga.

— Kukrigon (@cosmo_nautilus) May 23, 2019
Though given the climate our country is currently in, not everyone agreed:
It is very funny, but I don't think its encouraging racial safety trends for people of Hispanic decent. That is especially the case with Trump deporting many Mexican's here on missing documents.

— Norma Greenhalgh (@NormaGreenhalgh) May 23, 2019
I teach my students about acceptance for each other and the negative effects of racism and discrimination. It definitely doesn't help when TEACHERS are setting the rest of us back.

— Linda The Great!!! (@Linda_the_Great) May 23, 2019
If they r so educated n the language culture, they wouldn't have done this. There is no recognition of the plethora of cultures wi/in the Latino community. Tacky, n poor taste, & not even humorous. As some1 who supervises a Foreign Language Dept, they would've caught it from me.

— KarmenLaShaun Miller (@wwadiva2) May 22, 2019
How can you have been immersed enough in a Spanish-speaking culture to become fluent and still be this culturally clueless? Defies belief.

— Pissed Off Public School Teacher (@off_public) May 22, 2019
And still others saw the REAL problem as something else entirely!
Jeezus! Typos in both English and Spanish. 🙄Now *that's* pretty remarkable.

— Monica Pinon (@Pinonica) May 23, 2019
They couldn't even type the Ñ!? Ugh.

— Mauro G (@mau_lv) May 22, 2019
#ItsSeñoraNotSenora pic.twitter.com/0as8S4K5Ej

— Laura Martínez (@miblogestublog) May 23, 2019
Or "señora!" 🙄

— Monica Pinon (@Pinonica) May 23, 2019
Hopefully, we can all agree that our possibly ill-advised cultural appropriation should AT LEAST be spelled correctly!