Guys, we have to talk about a trend we're noticing lately. What's with fans being incredibly rude and almost belittling to celebs and then clutching their pearls and acting like their delicate sensibilities have been offended? Pink's Instagram has a perfect example going on right now.
If you don't follow her social media, she's one of those celebs who shares both "professional" photos and "real life."
Her Instagram is a sort of behind-the-scenes look at not just Pink the artist, but also Alecia Moore the woman, wife and mother. She talks about sleepless nights, unglamorous moments and mundane realness. She's shared powerful images of her on stage and powerful images of her being a mom.
We've seen huge moments with thousands of people cheering, and quiet moments of breastfeeding and bonding.
So now that you've got some context, let's get to the actual post. It's nothing controversial, it's just a picture of her, her husband Carey and their kids. They're sitting around a table hanging out eating. They're not wearing anything scandalous; there's nothing inappropriate happening in the background.
Just an adorable snap of taco night.
It was the caption that rubbed one commenter the wrong way.
Pink wrote:
At least twice a week on tour, we shut the door to the outside world and have family dinner. As you can see, it makes Jameson feel deep, deep joy.
Most people understood that she meant she doesn't allow cameras or work-related stuff to interfere in her life at least two nights a week to focus on family. They grasped that this picture was one she took and she shared on her terms to give the world a little example of the normalcy that she meant.
Of course, there always has to be "that guy," though. Trolls gotta troll, you know?
This time, "that guy" was played by Instagram user @megablack921. They made a snarky comment about her posting the "shut the door to the outside world" moment on Instagram.
He commented:
"Except it's posted on ig."
Yes, it is, megablack921, because she posted it. Of course, we don't have to defend Pink. She can defend herself just fine.
Pink is never one to bite her tongue or suppress her opinions, so she responded right back:
"Yes I like to promote healthy stuff. I also like to remind people to stop being TOTAL DOUCHE BAGS TOO. Consider this your reminder, @megablack921. F*ck o"
I mean … they were purposefully being a d-bag. All she did was point it out. The troll responded with exactly the kind of pearl clutching we talked about earlier.
They even played the "I was a fan! I was going to come see you!" card.
Pink responded by, essentially being like: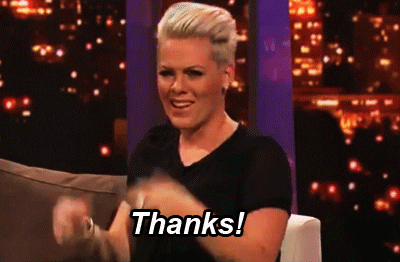 The interaction was picked up by Instagram account "Comments By Celebrities" and they shared a screenshot:
You'd think this would be the end…you'd be wrong. In fact, this is where things get interesting.
People started arguing about whether Pink was wrong or not. The comments section got feisty, you guys.
Some people felt like her initial post deserved to be ridiculed because it was hypocritical. Some people felt like celebs have an obligation to be nice to their fans. Other people felt like she handled it perfectly, and @megablack921 earned every bit of restrained clap-back that they got.
Comment wars are a go:
What do you guys think? Do you think Pink handled this situation well, or are you #TeamMegaBlack? Sound off!