Well, here's your feel-good story to start the weekend off right: A 14-year-old girl in Maryland designed a prom dress for her 18-year-old sister, and the results will jerk the tears right out of your eyes!
Courtney Lewis is studying design at the Duke Ellington School of the Arts in Washington, D.C. and was dying to design the dress for her sister Mikayla's big night.
Now I know what you're thinking: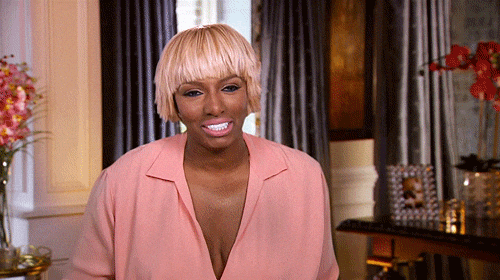 And big sis Mikayla was sort of on the same page at first. As she told the local Fox affiliate:
"My first reaction was like, 'I don't want to be mean and say no, so I'm going to say yes.' But I will have a back-up plan of buying the dress."
Which is very sensible! Because, you know… kids can do a lot of things but flawlessly executing a custom-made formal gown seems… off the menu?
But we all got it wrong. Like WILDLY wrong. Because this dress is GORGEOUS. Look at this thing!
It has a train! And embellishments on the back! And the whole thing is BEADED OR SEQUINED OR SOMETHING FOR GOD'S SAKE!
I've watched enough Project Runway in my day to know that just those pleats alone are a PROCESS. Courtney did the damn thing. It's like Pretty In Pink in real life except not drastically ugly!
(Sorry Gen X'ers and Old Millennials, I love Andie as much as the rest of you but that dress was disgusting.)
Anyway, the dress took Courtney five months—"a couple hundred hours" of work, as she put it—to create the dress, with the help of her cousin Syreeta Herbert, a fashion designer in Maryland.
And of course, Mom Crystal Lewis is even more impressed with her daughter than we are. As she told GMA:
"I'm especially proud of [Courtney] because she was really swamped at school…and instead of resting all weekend she was working on the dress."
How many teenage siblings do you know that would make this kind of sacrifice for each other? Pretty sure my brother would've punched me for even asking!
As for Mikayla, Crystal told Fox that she exclaimed she "felt like a princess" in the dress and couldn't stop smiling when she put it on.
And on social media, people were definitely feeling the sisterly love, and loving the dress just as much!
That dress is red carpet worthy. Very talented young lady.

— Lorne Pernell Newsome (@lornep426) May 9, 2019
Wow! Talk about talented!

— Brooklyn (@Brooklync1212) May 9, 2019
If I ever win an Oscar, she's dressing me

— Angela Mayfield (@pinkrocktopus) May 4, 2019
What a talented young woman. She has a bright future ahead of her.

— Lea Allgood (@allgood_lea) May 9, 2019
That dress would look at home at a red carpet event

— Zak Mitchell (@futrettamer) May 3, 2019
Their Mom sounds fantastic, encouraging her daughters to be who they are and reach for the stars.

— Gretchen Lewis (@glmlewis) May 3, 2019
Looks like big sister loves it and wore it proudly

— Kisha (@kisha1280) May 2, 2019
And Mikayla told Fox she even learned something from her sister's creation:
"Push through barbed wire. No matter what is thrown at you, you're able to get through it, so that's what I learned about her."
Man, these two just get you right in the feels, don't they?! Congrats Courtney and Mikayla!